Today in our poetry news round up we bring you the verdict in the case of the Egyptian poet Galal el-Beheiri. We also take a look at an article about the five young American students who have been chosen to be the next National Student Poets.
3 Year Jail Term for Egyptian Poet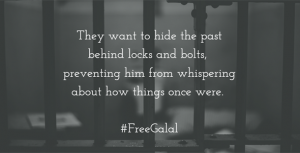 Yesterday we brought you the news that poet Dareen Tatour had been sentenced. Today we can confirm that a verdict and a sentence have been reached in the case of the Egyptian poet Galal el-Beheiri.
We originally wrote about the Egyptian poet earlier this year – he was arrested in March on charges of insulting the army after he published a collection of poems called "The Best Women on Earth".
Yesterday the Egyptian military sentenced the poet to a prison term of three years for insulting the security forces of the country, they also convicted him of "disseminating false news". The will also be fined a sum of 10,000 Egyptian pounds (around 480 euros).
Galal el-Beheiri has the right to appeal his verdict.
Since his arrest in March, there have been many protests surrounding the poet's detention in jail with the international human rights community claiming that this imprisonment was a violation of the poet's rights to freedom of expression. Unfortunately, the government and security in Egypt have been cracking down on what they see as dissent over the last couple of years and several thousand people have been jailed as a result of this crackdown. Just five days ago a group of Un-Special Rapporteurs urged the government to arrange for the release of the poet and to acquit him of all the charges he faced.
El-Beheiri still faces charges in a civil case that has yet to go to court. This relates to some of his poetry being used as lyrics by Ramy Essam, an Egyptian musician who has an outstanding arrest warrant hanging over his head. They are both accused of insulting Islam.
National Student Poets
The selection has been made for the National Student Poets program. The five students who have been selected will spend time serving as ambassadors for all that is literary.
They hail from all over the USA; Vermont, Arizona, Michigan Las Vegas and Alabama.
The program has been running since its inception in 2011 and is administered by two groups; the Institute of Museum and Library Services and the Alliance for Young Artists & Writers – a non-profit organisation. The students will each be given an academic award of $5,000.
The applicants, who were selected from the thousands of 10thand 11thgraders who were amongst those with the top honours in Writing and Scholastic Art Awards.
The official ceremony will take place at the Library of Congress on 30thAugust. As part of the work, they will get to carry out the student will also be given the opportunity to meet privately with Tracy K. Smith the U.S. poet laureate.