Today on My Poetic Side we look at the Pub with poetry connections that is up for sale and the poet laureate sharing daily posts during the pandemic.
Pub with Poet Connections up for Sale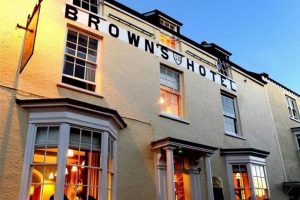 Brown's Hotel in Laugharne has been put back on the market with a guide price of £795,000.
The pub, which is in a Grade II listed building and was a favourite with the poet Dylan Thomas, underwent a huge £1 million revamp project eight years ago.
Over the years there have been several famous guests to the pub including the former president of the US, Jimmy Carter, and Mick Jagger of the Rolling Stones. However, it is well known as the venue where Thomas liked to spend his evenings somewhat under the influence of alcohol.
The refurbishments that were carried out in 2012 turned the hotel into a retro-chic boutique with a vibe that returned it to how it might have looked in its heyday when the Under Milk Wood author was a regular visitor.
The property agents handling the sale have described it as an iconic building and believe that it is likely to be incredibly popular with those people looking to invest in the area due to its iconic place in history. The building next door is also up for sale, which they point out, may make a fantastic investment opportunity.
Poet Laureate Shares 100 Posts During Pandemic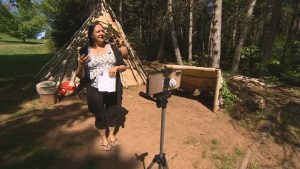 Julie Pellissier-Lush, the poet laureate of P.E.I has been busy during the pandemic; she has shared 100 posts, some about poetry, others a story or even a song daily since the middle of March.
For the first month, the posts were created in her home. However, as time has gone on and the weather has improved, she has been able to get out and about to bring a real variety to her posts. She came up with the idea after she was involved in a virtual pow-wow which garnered a significant amount of views.
She wanted to share something that would inspire people and give them something to focus on
In May her posts featured new street signs, nine in total, each of which has a Mi'kmaq name. She wanted to show people how they were pronounced and also read a poem at each one simply to highlight their existence. Being able to share some of her Mi'kmaq culture has been a big part of her work during the pandemic.
Pellissier-Lush became the first Mi'kmaq poet laureate for the province in 2019.
She has received much praise for her work during the pandemic which has made poetry much more accessible to people all over the island; also giving them a fantastic insight into the Mi'kmaq culture in a way that has really brought different communities together, while offering them a totally different way of looking at things.
The series of posts ended in June, but people are still looking at them online, and even coming back for a second look. Pellissier-Lush hopes that people will still be looking at them in a couple of years saying, "It'll be a legacy for what I've been trying to do as a poet laureate."