Today's poetry news roundup looks at articles about the poet in residence for this years Ledbury Poetry Festival and a newly discovered draft of a poem by Robert Frost that will be going up for auction.
Student Picked to Be Poet in Residence for Ledbury Poetry Festival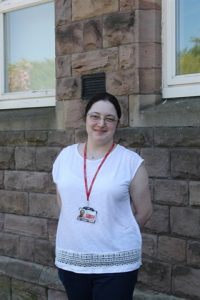 A student from Thomas Rotherham College has been chosen to be the poet in resident at what is considered to be the largest poetry festival in the UK.
Eloise Unerman who is just 18 years old won the honour of attending the festival as the poet in residence following her win in the young people, 12-17-year age category, of the Ledbury Poetry Competition last. Her poem "04:52 to Bristol" was an exploration of femininity and what life is like in todays society from the point of view of a woman running from an abusive partner.
The festival will take place next month and Eloise who is currently studying for her A levels in Law, Biology and Sociology will be in residence during the first weekend 29th June to 2nd July. Not only will she be at the festival for the launch showcase, dinner and a number of workshops but she will also get to meet poets from all over the world.
Eloise will be making an appearance at the first weekend of the festival, from June 29 to July 2, accompanied by her mother, and will be present for the launch showcase, dinner and a number of workshops.  She will also have the opportunity to meet other poets.
The Ledbury Poetry Festival was founded in 1996.
Draft of Famous Poem to go up For Auction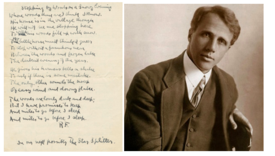 A newly discovered draft of the poem "Stopping by Woods on a Snowy Evening" by Robert Frost is due to go up for sale at Bonhams in London as part of a Fine Books and Manuscripts sale. The auction is due to take place on Wednesday 20th June.
One of the most popular and famous poems of the 20th century the manuscript has come to light in a letter that was sent by Frost to Jack Haines, his friend in England. The letter is dated 28th January 1923. In it Frost states that he is sending "a bit" of poetry to his friend, what he ended up sending however was a complete version of the final four verse poem, which is written word for word as it was eventually published.
There is only one other pre-publication draft of the poem that has survived and that only contains three verses. The fourth verse was added by Frost to the beginning of the poem to help set the scene.
Frost met Haines in 1914 when he visited the UK at the beginning of his career. Haines was a local solicitor and a poetry enthusiast who acted as a hub for a group of poets who became known as the Dymock Poets, in addition to Frost the group included Rupert Brooke, Edward Thomas and John Drinkwater. In addition to the letter which contains the poem there are a further 30 letters between the two friends that will be included in the auction. Some of these letters which have been valued individually contain Frosts reactions to the deaths of Brooke and Thomas.
The draft poem has been given an estimated value of £20,000 to £30,000.