Today in our poetry news round up we look at the winner of the Hall-Waters Prize, poet-inspired cocktails and Phillis Wheatley's "Little Book".
Hall-Waters Prize Awarded to Terrance Hayes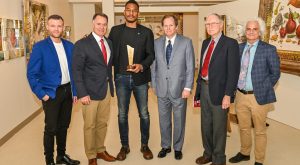 The poet and essayist Terrance Hayes was awarded with the Hall-Waters Prize during a lunch at the International Arts Centre of Troy University last Friday. The prize is given for excellence in Southern Writing and is endowed by Dr Wade Hall, a TROY alumnus. Dr Hall is a former member University of Florida faculty and an author. The prize is a memorial to his parents Sarah Elizabeth Waters Hall and Wade Hall Sr. Previous winners of the price include Babbie Ann Mason, Spooner Oldham and Natasha Trethewey.
Described as one of the most decorate American poets Hayes is a recipient of the MacArthur Foundation Genius Award (2014) and also a winner of the National Book Award. During the award lunch he read from his works and also answered students questions.
Hayes currently works at New York University where he is a professor of English. He has written seven collections of poetry and has been a finalist in many poetry competitions including the TS Eliot Prize and a finalist in a number of others.
This June The Spirit of Edgar Allan Poe to Visit Cowtown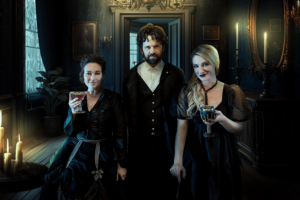 Residents of Forth Worth will get the opportunity this summer to be transported back into the mysterious and dark world of Edgar Allan Poe. From the 8th to 10th June, Historic 512 will be offering the chance for people to take part in an event that will combine expertly created cocktails inspired by four of the poets most beloved works with readings of the pieces.
The drinks will be named after the pieces of poetry that they represent with Pale Blue Eye, Raventini, Cocktail of Red Death and Edgar's Twisted Brandy Milk Punch making it to the special menu.
History Making Little Poetry Book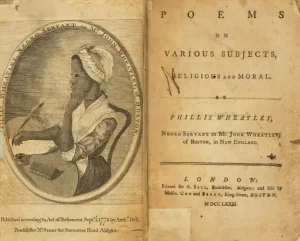 What is said to be the first poetry book in English that was written by a person of African descent was written by Phillis Wheatley, and this week a first edition will be going up for auction with Bonhams.
The little book itself has something of a mystery surrounding it. Published in the 1770s, little is known about where it has been between then and the 1940s."Poems on Various Subjects Religious and Moral" was written by Wheatley who was a former enslaved teengager, and is said by many to be considered an "antislavery argument".
The content of the book and the quality of the writing is somewhat surprising given her age when she wrote it and her limited level of education. Whilst she managed to get many of her poems published in newspapers a the time it wasn't until a countess in Britain intervened that she was able to find a publisher.
It is unknown where the book spent the time between publication and the 1940s (170 years) when it came into the possession of Raymond Adams, the first president of the Thoreau Society. On his death in 1987, Adams left no information about where he had obtained the book either, although it had been been bound with another short book of poems by Robert Blair at some point.