We begin the week with a look at a rare Phillis Wheatley letter that is to go on display in a museum, and we also have an article about this years winner of the Windham-Campbell prize.
Rare Phillis Wheatley Letter Acquired by Museum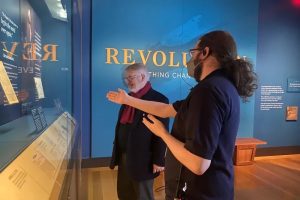 A rare printing of a letter by Phillis Wheatley has been acquired by the Museum of the American Revolution. Wheatley is widely regarded as having been the first Black American poet, and the letter not only denounces slavery but also talks about a universal love of freedom.
The letter was written in 1774 and sent to Mohegan Indian Samson Occom, a Presbyterian minister who also shared the same view as Wheatley with regard to the treatment that the Indigenous and Black people of the American colonies had to endure.
Wheatley was kidnapped as a child from west African and sold into slavery in Boston to a family named Wheatley. They taught her to write and read and also gave her considerable encouragement to develop her poetry. Her first collection of poetry "Poems on Various Subjects, Religious and Moral" was published in 1773.  It was shortly after this that she was given her freedom from slavery and in April 1774, the letter that she wrote to Occom was published on the front page of the Connecticut Journal.
Having acquired what is an incredibly rare printing of that letter, the museum has now put it on display for the public to see and it will remain on public view until 4th July. A rare, signed copy of the first edition of a book of poetry by Wheatley will also be on display for the same duration.
Both of the items are very rare, as there are very few personal possessions that are connected to people of colour from that era that have survived. They form a valuable teaching tool about the past.
Windham-Campbell Prize Winner for 2022 Announced
The winner of this years $165,000 Windham-Campbell prize has been announced as Wong May, a poet who has been "underground" in Dublin for the last 40 years.
Wong May is actually not comfortable with being referred to as a poet and instead describes herself as something of a "cultural worker", someone who paints and writes poetry. She has lived in Dublin for the last forty years, mostly off the radar.
Her career spans over 60 decades and began in 1969 with the publication of her first poetry collection "A Bad Girl's Book of Animals". This was followed in 1972 with "Reports" and then in 1978 with "Superstitions". Her next book was published in 2014 following a gap of over 35 years and it titled "Picasso's Tears".
Her work was described by the prize committee as rather "enigmatic". However May herself sees things a little differently and likes to quote James Joyce to explain her decision to remove herself from literary circles "Silence, exile and cunning," she quotes.
May was born in 1944 in Chongqing, China. In 1950 she moved to Singapore with her mother, who was a classical Chinese poet. From there she went on to live in the United States, Canada and several other cities in Europe. She moved to Dublin in 1978 with her husband. Her most recent book was published in January 2022.