In today's poetry news round-up we have articles about the poet president who has been elected to a second term, we also have stories about the art installations being unveiled as part of this years Poppy Appeal and finally the 84 year overdue library fine for a poetry book is paid.
Irish President and Poet, Michael Higgins Re-Elected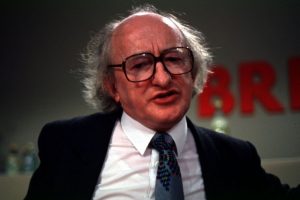 Michael Higgins, the Irish incumbent president has been re-elected to a second term after taking a clear majority of the vote. In the poll, which took place on Friday, Higgins took over 800,000 of the 1.4 million votes cast and will now take up another seven-year term.
A vote for making changes to the blasphemy law was also successful.
Thank You to Edinburgh's War Poets
A thank you to the war poets of Edinburgh has been unveiled to signify the beginning of the 2018 Poppy Appeal.
The stunning 32-metre long thread that contains lines from the poem Anthem for a Doomed Youth by the poet Wilfred Owen can be seen at Napier University in Edinburgh, on the Craiglockhart campus. This red thread is just a small part of a project that has been unveiled nationwide to show just how much the legacy of World War One is woven into the history of our country.
The National Maritime Museum in Greenwich has also unveiled an installation that is six metres high to mark the beginning of the Poppy Appeal.
There are many other threads all leading from this one focal point and reaching to locations across the UK of significance. Each of them contains a message from the generation of the First World War. The one in Edinburgh is the only Scottish one, and it acknowledges the contribution of war poets like Siegfried Sassoon and Wilfred Owen who were patients at Craiglockhart whilst it was a psychiatric hospital used by the military.
84 Year Fine is Paid
Not long ago we bought you the story of a library book returned to the Shreveport library 84 years overdue. The book had been found by a local resident when he was clearing out his late mother's belongings.
The library waived their maximum fine for the book which would have been just $3. The family have however decided to make a donation to the library in honour of their mother. The notes inside the book "Spoon River Anthology" by Edgar Lee Masters states that overdue library fees would have been 5 cents for every day that the book was overdue for. That means the fine would have been $1543.65 – the total that the family have now donated to the library. They felt that their mother who had a great sense of humour would have loved the gesture.
The Executive Director of the library joked that he might just use this story as a lesson to others taking out books



he said.