Today on My Poetic Side, we bring you an article about a poet's letter that fetched over £130,000 at auction, we also take a look at the poet Dr John Cooper Clarke and his trademark look.
Poets Apology Letter Fetches £131,000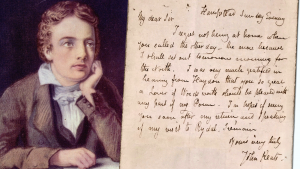 An apology letter written in 1818 by the poet John Keats has sold for a record amount. The letter was written by Keats to Thomas Monkhouse, and apologises for missing his visit. It has sold for £131,000, making it the most expensive personal letter of the poet.
The letter has been purchased by the Keats-Shelley Memorial Association, a museum in Rome that celebrates the life of John Keats and Percy Bysshe Shelley. The letter, which is just 76 words long, was written to Monkhouse, who was a cousin of the wife of fellow poet William Wordsworth. The museum plan to add the letter to their collection which is housed in the building where Keats died in 1821 of tuberculosis. The museum is home to an impressive library which contains over 8000 works including a copy of Tacitus's Orationes omnes from Keats childhood.
The letter in its entirety reads:



The poem to which Keats refers is Endymion.
Documentation with Keats signature is rare, this one has been owned privately for the last 200 years. The last one that came up for auction for auction in 2013 sold for £181,250 and was a fragment on one of his poems, I stood Tiptoe Upon a Little Hill.
New Book for John Cooper Clarke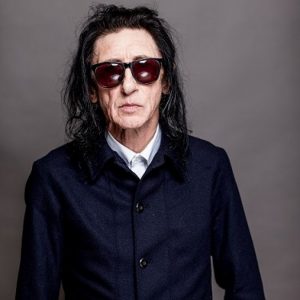 Dr John Cooper Clarke, the punk era poet, is set to release a new poetry book this November. He will also be taking his theatre tour worldwide, taking in a number of UK venues as well as the USA, Australasia and Canada.
This new poetry collection is his first in several decades, and it combines new poems and audience favourites. Cooper Clarke rose to fame during the 1970's and he released a number of albums towards the end of the 70's and early 80's. He is instantly recognisable for his trademark look.
If you ever wondered where an almost 70-year-old poet choses to shop for rather tight jeans, then ponder no more as this was one of many questions he answered for a recent interview. His go to for the skinniest jeans he can find is River Island or good old Marks & Spencer. However, keeping up with this trademark look has caused him some issues over the years as trends in jeans has altered and the preference for hipster jeans meant that the high waisted skinny jeans he favours were much harder to find. He is adamant that hips are not a feature in men that need to be shown off! During the low-rise years as he calls them, jeggings from M&S ladies department saved him.