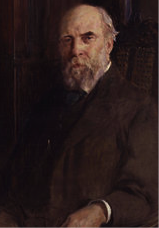 William Cosmo Monkhouse was an English poet, novelist and art critic who also had a career in the civil service, rising to the position of assistant-secretary to the finance department at the Board of Trade.
He was born on the 18th March 1840 in London, the son of a solicitor. After attending St Paul's School up to the age of seventeen he began employment as a junior clerk working at the prestigious department of the civil service that has links to the Privy Council of the United Kingdom. As the years went by he filled a number of positions, generally connected with marine matters, and he served in Valparaíso, Chile between 1870-71, where work was carried out concerning the provision of hospital accommodation for seamen at various ports in South America. His name could be found on several departmental committees, perhaps the most high profile of these being the Mercantile Marine Fund.
Although he was a career civil servant throughout his lifetime, Monkhouse would claim that he most wanted to be a poet and he had his first collection published in 1865 under the title A Dream of Idleness and Other Poems. The poems within were generally regarded as being written by a poet of "exceptional maturity" and he was clearly influenced by the work of William Wordsworth and Alfred, Lord Tennyson. It was not commercially successful though and he was somewhat discouraged by his lack of recognition as a new poet.
Perhaps for this reason it was another 25 years before the next collection was released when he had Corn and Poppies published. This contained one of his most famous poems, a mournful piece called A Dead March. Here are the opening lines to this poem: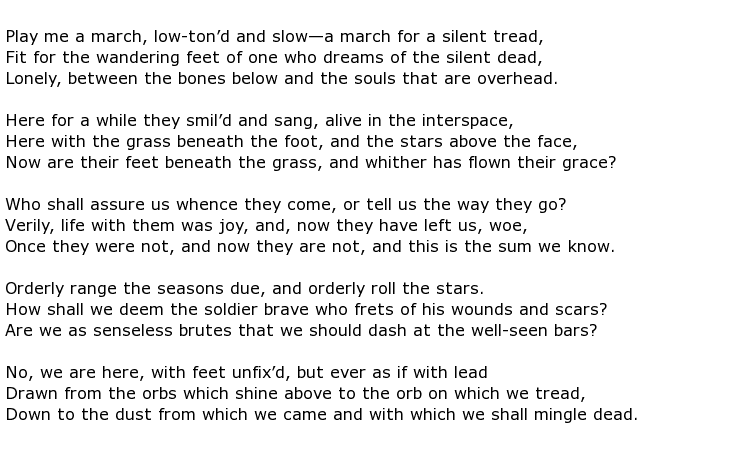 Five years later Monkhouse wrote a ballad called The Christ upon the Hill which was published including illustrations by the Scottish artist William Strang. This poem was republished in a posthumous collection called



Earlier in his life he had tried his hand as a novelist and A Question of Honour was published 1868. Besides poetry though his other great love was art and he wrote a number of pieces on art criticism for such periodicals as the Magazine of Art and The Saturday Review, along with many others. Having not received the recognition as a poet that he had hoped for, Monkhouse decided to concentrate on this field instead. He published several books on a variety of artistic fields beginning in 1887 with The Italian Pre-Raphaelites and ending in 1899 with British Contemporary Artists.
He also produced a few biographical pieces including, in 1901, The Life and Work of Sir John Tenniel, R. I. which concerned the man who had supplied the illustrations for Lewis Carrol's Alice"s Adventures in Wonderland. When the Dictionary of National Biography was first published in 1885, Monkhouse was invited to be a contributor. Two years later he added a very well-crafted memoir of James Henry Leigh Hunt to a publication called the Great Writers Series.
William Cosmo Monkhouse died in July 1901 at the age of 61.