Today we look at a story from Bethlehem of a literary landmark to be named honouring a poet to Japan, an article about a surprising winner of a haiku competition, and take a brief look at some of the big names who will be joining the line-up for the BBC festival in Hull.
Literary Landmark to be named for Hilda Doolittle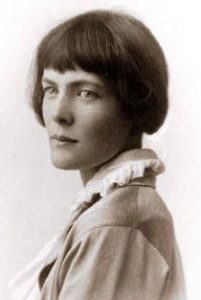 There are around 160 literary landmarks all over the world that are honoured by United for Libraries, and a now a spot near the Bethlehem Area Public Library will be joining the list. The landmark will be honoured in the name of poet Hilda Doolittle whose childhood home was located nearby on Church Street, and will join a list that includes the Key West home of Ernest Hemmingway, the boyhood home of Mark Twain in Missouri and Pete's Tavern, situated in Manhattan, where O. Henry penned "Gift of the Magi"
Doolittle, who was also known by the pen name "H.D." belonged to the group of early 20th century poets whose work was classed as "Imagism". They broke away from the Victorian traditions of the time and wrote a much freer style of verse that created clear images and used language that was concise and exact.
Born in 1886, Doolittle spent the first 10 years of her life in Bethlehem, before her father took up a position at the University of Pennsylvania. She grew up in America and then moved to England where she married fellow poet Richard Adlington, it is during this time that she developed her poetry style writing amongst fellow expatriates.
It is hoped that the landmark will bring Doolittle back into the public eye and raise the profile of her poetry amongst the younger generation to whom she is not so well known.
British schoolgirl wins haiku contest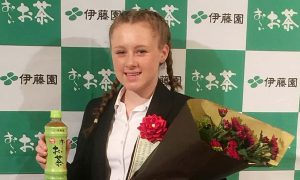 A 14-year-old schoolgirl from Gloucestershire has been named as the first non-Japanese winner of an annual haiku contest run by a Japanese tea company. Grace Starkey, beat more than 18,000 other entrants to win the prize which she had to fly to Japan to collect. In addition to the trip, which she had to keep a secret from her classmates, the prize included having her poem rendered by a famous calligrapher, and seeing it reproduced on thousands of bottles of the companies' green tea.
Grace had been given the task of writing a haiku following a poetry workshop at her school. She says the inspiration came to her as she walked home with a friend following the workshop. The judges of the contest Tsunehiko Hoshino, a haiku poet and Adrian Pinnington, an expert in Japanese literature felt that her haiku was incredibly fresh and unique.


BBC Festival, Hull
A few weeks ago, we bought you news about the BBC festival planned for Hull, later this month. The festival "Contains Strong Language" has been busy adding a number of new acts to the line-up. Most notable amongst these will be appearances by British born, Hollywood actor Jeremy Irons and actress Julie Hesmondhalgh who will be performing some of Hulls famous poems at a gala reading.