We begin the week with a look at an article about the death of Jack Hirschman, one of the Beat Generation poets.
Beatnik Poet Jack Hirschman Dies Aged 87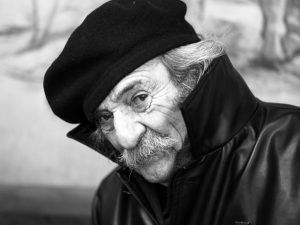 The poet Jack Hirschman passed away on 22nd August in San Francisco. He had not been ill, and his death was incredibly sudden, happening just a few minutes before he was due to take part in an interview.
Hirschman was a poet, and also a social activist. He published his first book of poetry in 1960, and for over two decades following this, he spent much of his time in the cafes and on the streets of San Francisco reading his poetry to others.
He was a founder member of the World Poetry Movement, a movement whose books of poetry followed each other from the 1960s to the 2000s. His own poetry was translated into all of the major languages over the years, and he was also one of the directors of the Revolutionary Poet's Brigade, which was located in San Francisco.
In addition to writing his own poetry, he was responsible for translating Joseph Stalin's youthful poetry into English, in a book that was published in 2001.
As a young man, Hirschman studied arts at New York City College and also worked as a copy boy for the Associated Press. He wanted to learn how to write so sent a letter to Ernest Hemmingway, the best writer he could think of. The author wrote back telling him he wasn't able to help him, and he wrote better than Hemmingway himself had at that age.
Hirschman was able to sell the letter he had received to a newspaper and with the proceeds, he purchased a station wagon. The letter which has been dubbed, Letter to a Young Writer, was published all over the world when Hemmingway died in 1961.
The young poet succeeded in his writing and became one of the beat generation. This was the 1950s poetry movement that counted the likes of Allen Ginsberg, Jack Kerouac and William C. Burroughs amongst its membership.
In the late '50s Hirschman began teaching at University of California. One of his students was Jim Morrison who had just made his first disc as The Doors – Hirschman had no idea at the time who Morrison was. He was eventually sacked from his position at the university when he discovered that any student receiving an A grade would be exempt from the draft, and graded those students who were opposed to being drafted with an A.
From his first book of poetry which was published in 1960 and had the foreword written by Karl Shapiro, Hirschman penned more than 100 volumes. He also learnt to speak Russian so he could read a poem a day in Russian – something he did for 11 years. He also translated poems in a number of different languages.
Jack Hirschman is survived by his second wife Agneta Falk – who is also a poet, and his two children from his first marriage.