In today's poetry round-up we bring you a 90-year-old poetry rejection letter, the posthumous poetry book from Helen Cadbury and the proposal to create a poet laureate post in Ontario in honour of Gord Downie.
Ouch, Now That's a Rejection Letter!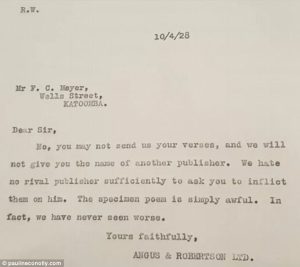 90 years after it was written a rejection letter that certainly didn't hold any punches has emerged. The letter from Angus & Robertson a publisher based in Sydney, Australia was sent to aspiring poet F.C. Meyer in 1928. Not only did the publishers reject Meyers attempts at poetry but the also refused to refer his poem to any other publisher.
The letter begins "Dear Sir", alas that is where the pleasantries end. It continues



It would seem that Meyer wasn't going to let one little rejection letter get the better of him however, in 1929 he was successful in publishing



a book of prose. This was followed by


in 1934, and



in 1940.
The second of his books earned Meyer a mention in Scoop Magazines bad poetry competition in 2001. Whilst the final book contributed a number of extrats to a competition for bad verse and awful poetry that was held by Artscape, a New Zealand magazine, again in 2001.
With lines like



from his poem Maori Maiden it isn't hard to see why Meyer was dubbed "the finest bad poet this country (New Zealand) has produced. Perhaps he should have paid more attention to his rejection letter!
The Posthumous Poetry Book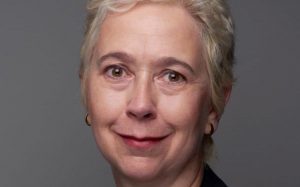 When Helen Cadbury, the acclaimed crime writer who was based in York was given the news that her cancer was terminal she returned to poetry which had always been her first love. Now "Forever, Now" the book of poetry she produced will be posthumously published.
The book catalogues the life of ordinary people who lived extraordinary lives, people like Cadbury herself, and pretty much anyone she saw out and about on a day to day basis.
As the author of three successful novels and a winner of the Northern Crime Award for her Debut novel, Cadbury started writing as a teenager. She listed Sylvia Plath as one of her inspirations. She then went on to complete a creative writing course.
A proposal has been put forward in Ontario to enshrine the name of Gord Downie, the frontman of the band tragically hip who died earlier this year from a brain cancer, in law. The proposal wants to create the post of poet laureate, the first for the province, in his name
Downie was not only a singer, he was also an advocate for indigenous issues and a poet. And of ones of Canadas much loved public figures this would indeed be seen by many as a fitting tribute.