In our final poetry new round up of the week we bring you the news that Richard Murphy the well-loved Irish Poet has passed away at home in his resident country of Sri Lanka at the age of 90.
Distinguished Irish Poet Dies at 90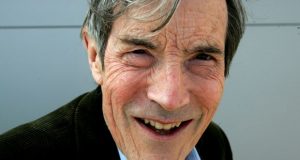 The literary world is once again mourning one of its number following the sad news that the much loved Irish poet Richard Murphy, has passed away in his residence in the country of Sri Lanka. Murphy, who spent much of his former years in Sri Lanka had returned there to live in recent years. The news of his death was announced by Cork Uni Press, his publishers.
Murphy came into the world in 1927 near to Shrule, which is located on the border between Mayo and Galway. His family history which has Anglo-Irish roots can be traced back in history to show he was a direct descendant of Patrick Sarsfield and Charles I of England.
Although the family have a proud military tradition Murphy decided instead to follow the path of poetry. He attended Magdalen College Oxford where he studies English and literature under CS Lewis. His first poem to really bring him to people's attention was
"The Last Galway Hooker"
a poem which was inspired by his adventures buying and then restoring a sailing boat. However, it was his 1968 work
"The Battle of Aughrim"
that is considered to be his most well known literary work. The title poem of the collection is a long piece about the 1691 Protestant's victory against the Catholic forces, inspired not only by the battle itself but also by the fact that his family, going back many years, had been on opposing sides.
Murphy devoted his life to his poetry in an attempt to unite what he referred to as his "divided self" he felt that coming from an imperialist Protestant family in a country that found itself divided by religion there was a certain level of disunity that needed to be changed.
In 1969 he bought High Island, which became a retreat he could escape to when he wanted to work in peace. He followed this in 1974 with the building of a second retreat; this time on the island of Omey. He entertained a number of his fellow poets on Omey; Sylvia Plath, JR Ackerley and Ted Hughes who later became one of his closest friends.
In 1989 he wrote
"The Mirror Wall"
following a trip to Sri Lanka after being away for 50 years. In addition to his poetry, he was a frequent broadcaster on both BBC and RTE and taught in many universities both in America and England.
Murphy was also a member of Aosdána, an Irish association of artists that was created in 1981.
President Michael D Higgins, who is also a poet as well as a politician, led the tributes to Murphy who was remembered with great fondness by a wealth of his fellow poets, many of whom were influenced by the poets and some who he had worked with.
Richard Murphy is survived by a son, William and daughter, Emily.