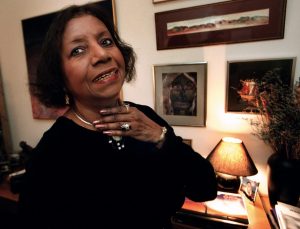 In today's poetry round-up we bring you the sad news that another great poet has passed away.  Dolores Kendrick often referred to as DC's "First Lady of Poetry" and poet laureate for nearly 20 years has died aged 90.
RIP Dolores Kendrick, DC's "First Lady of Poetry"
Dolores Kendrick, who spent nearly two decades as the poet laureate of Washington DC passed away at her home in the city on 7th November. She was 90 and the cause of her death was complications linked to cancer.
Kendrick was born on the 7th September 1927, in Washington. She was brought in in the neighbourhood of LeDetroit Park which is located near Howard University. Her mother was a music teacher and her father who was a publisher helped to found a popular black weekly newspaper "Capitol Spotlight". She studied English at the blacks-only Miner Teachers College and went on to graduate with a masters degree in teaching from Georgetown University in 1970. She then went on to teach in the DC public school system for many years, helping to establish the School Without Walls.
Dolores Kendrick championed the female slave in much of her writing, and believed that poetry should play a much more important role in public life. In 1999, she was given the opportunity to forward this cause when she was made poet laureate of Washington, a post that she went on to hold for nearly 20 years. Not only did the position allow her to organise numerous poetry exhibitions but it also brought much of her earlier work back into the public eye. The position of poet laureate had been unfilled for almost ten years previously following the death of the previous poet laureate, Sterling Brown who became poet laureate in 1984.
In total Kendrick wrote five books of poetry, the final book



which contained selection of new and old poems was completed shortly before she died. She is perhaps best known for



which was published in 1989 and won the Anisfield-Wolfe Award; an award which is given to books with address the subject of racism and the diversity that exists between human cultures. The book tells the story of 34 slave women and spans the period to the years following the civil war.
Here we reproduce a part of her poem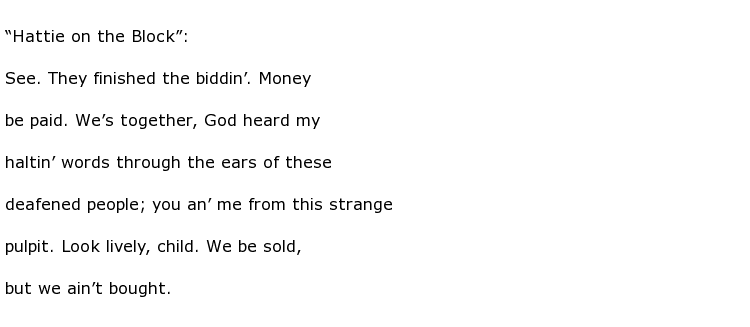 She was also awarded a



fellowship as well as the



for her contributions to the literary world.
Dolores Kendrick was never married and had no children; she claimed that getting married would have interfered with her ability to carry on with both her writing and her teaching.