We start another week here at My Poetic Side with a news story about the headline speaker at the second annual Shrewsbury Literature Festival. We also look at the signing of the Tree Charter.
Shrewsbury Festival of Literature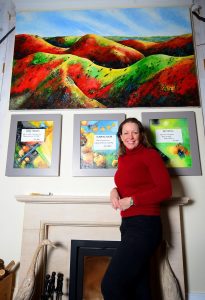 This weekend saw the second annual Shrewsbury Festival of Literature taking place. A variety of events relating to both prose and poetry took place at various locations all over the city between 24th to 26th November.
On Saturday 25th November visitors to the festival got the chance to listen to Frieda Hughes, who was taking place as the headline speaker at the festival, reading from her latest book of poetry. Hughes has been writing poetry for a long time, but it wasn't until sometime after she was diagnosed with Chronic Fatigue in 1994, that she decided to share it with someone. And that someone was her father the former poet laureate, Ted Hughes. She wasn't expecting him to think much of her poems, but after he had had a critical look at them she had enough for her first book.
It is perhaps easy to understand why Freida Hughes might have been reluctant to share her poetry, with a former poet laureate for a father and celebrated American writer Sylvia Plath her mother, she feared she might be judged unfavourably against their work.
Hughes touches on bereavement in much of her poetry, she speaks entirely from the heart; her own mother took her life when Hughes was just short of her third birthday and her half-sister died at the age of 4 when Assia Wevill, her father's lover took not only her own life but that of her young daughter, Freida's half-sister.
Arboreal Poet Signs Charter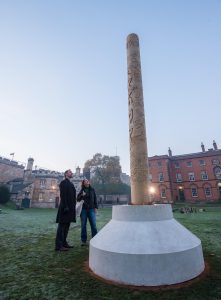 A historic signing of a new national charter has taken place, and Harriet Fraser who earlier this year was appointed the Poet in Residence for the Tree Charter travelled from her home in Kendal to Lincoln for the launch.
The Tree Charter sets out the principles, of which there are ten, that govern the protection of trees, safeguarding access to them and also the use of the royal forests. The new Charter has been handwritten using the same type of ink that was originally used to write the previous charter, and the Magna Carta, which is made from oak galls. The first two lines comprise poetry written by Fraser.
The charter forms part of several years of work which has included photographing just seven trees in all weathers and writing about them as well as introducing over 350 people to the trees.
Instigated in 2015, by the Woodland Trust, the campaign for the new tree charter had the backing of more than 70 organisations from many different sectors.
A number of tree poles, 8 in total, will be erected all over the country as part of the charter, each will be inscribed with some of Fraser's poetry and motifs that represent trees and other elements of the woodland.