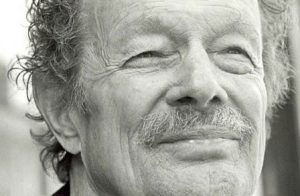 John Aldridge "Jack" Collom, died on Sunday 2nd July at his home in Boulder, Colorado. He was a prolific poet, essayist and pedagogue. He taught poetry at both the local K-12 schools and also the University of Naropa, where he had been an adjunct professor since 1986. A memorial is being planned by the university for later this summer.
Growing up in the small town of Western Spring, Illinois, Collom spent much of his formative years birdwatching and went on to study forestry at Colorado A&M College, gaining a B.S in 1952. However, it wasn't until he was stationed in Tripoli, Libya, during his four years of service in the U.S. Air Force, that he began to write poetry. On his return to the US he continued writing poetry for a further twenty years, whilst working in factories.
Having received a B.A. in English in 1972, and an M.A. in English literature in 1974 poetry became a much bigger part of Collom's life; he began teaching as part of the "Poetry-in-the-Schools" program. Teaching poetry and creative writing in a number of schools, gave Collom the chance to work on his own poetry whilst passing on his love of the subject to children of all ages.
As well-known as he was for his teaching; he was very popular amongst his student, Collom was also a pioneer in eco-poetry, having grown up in a small town he developed a love of the outdoors from a very early age. In addition to publishing a total of 26 books of prose and poetry he also taught the first eco-poetics class in the country of Naropa. He was the pioneer of Eco-Lit, with one of the first ecology based literature courses that was on offer in the United States. His many works, both writing and essays, on the environment have been published in venues such as ecopoetics, The Alphabet of Trees; a Guide to Writing Nature Poetry and the journal of Interdisciplinary Studies in Literature and the Environment (ISLE).
Collom received a number of awards for his work over the years. In 2013, he was awarded the Colorado Book Award for "Second Nature" which contained a diverse collection of both prose and poetry which focused on nature. Collom felt that this collection was his crowning work.
He also received two Poetry Fellowships from the National Endowment for the Arts; the first one in 1980 and the second in 1990.
In 2012, he was also received a Poetry Award from the Foundation for Contemporary Arts.
Collom will be sadly missed by his colleagues and students, his positive and inspiring commitment to instilling a love of poetry into children and adults alike was evident in the way he taught and also in his day to day life.
In homage to Collom, we reproduce below one of his better-known poems, Ecology


Collom is survived by his third wife, Jennifer Heath and four grown children; Nathaniel, Christopher and Franz from his first marriage and Sierra from his second marriage. He also leaves behind a grandson, Joshua.