Our final poetry news of the week looks at a previously unpublished poem about VE day on the 75th anniversary of VE Day.
After 75 Years VE Day Poem Published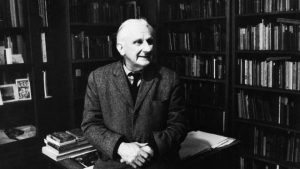 A poem that was written 75 years ago by Edmund Blunden, the war poet, about VE day has been published now for the very first time.
The acclaimed poet wrote his poetry to recount his experiences of World War One. However, in 1945 when Germany surrendered, he was so moved that he penned a new piece. The poem is titled V Day and has been described by the UK Imperial War Museum as "superb". His family, it would seem, knew little about the existence of the poem.
In 1914, Blunden was given a scholarship to Oxford University. However, just one year later he chose to volunteer to fight for his country. He saw frontline combat from 1916 to 1918. During this time he fought in what were some of the worst battles of the war, both at Ypres and the Somme.
Following the war, he returned to Oxford but 12 months later he left in order to write. It was at this point that he wrote "Undertones of War", an account of the conflict he had seen. This account included poems that he had written whilst he was still fighting at the front.
The poem V Day was written at the time when Blunden, who became somewhat of an academic was between tutoring and taking a position at The Times Literary Supplement. At the time he lived in Kent.
The poem has been made available by the Imperial War Museum for everyone to read on its website
Blunden was described by the museum as an incredibly important poet who was one of the First World War's key writers. He feels that V Day is a somewhat unusual poem as it looks at the close of WWII from the point of view of someone who we most associate with World War One. It suggests just how much important insight those veterans from the first war could impart about the second one. It has been hailed as one of the most important poems of our times, and poses the question to the reader "What does victory really mean?"
The daughter of the poet said that Blunden was a poet who employed irony in his poetry, it is particularly noticeable in his war poetry including this one
In 1966 Blunden became Oxford's Professor of Poetry. He passed away at the age of 77 in 1974 at his home.
The Imperial War Museum purchased the poem at an auction; however, they are mystified as to why it has never previously been put into print
It has now been made available to see online, in its original handwritten form, as part of the programme to digitise materials and in conjunction with the online celebrations for the 75th Anniversary of VE Day.