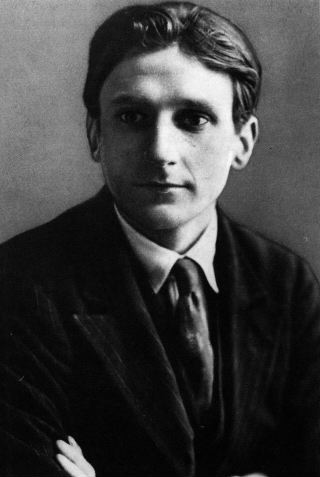 Edmund Blunden" class="alignright size-full wp-image-928″ />Edmund Blunden was born November 1, 1896, to a pair of schoolteachers in London, England. He was the eldest of nine children. When Blunden was four years old, his parents moved from London to the small village of Yalding, in Kent, which was to serve as inspiration for over fifty of his poems during his later years. In 1909, young Edmund won a scholarship to attend Christ's Hospital, a unique boarding school created by Edward VI for boys of parents with "little or no means". He did well at Christ's Hospital, and earned a place at Queens College, Oxford, but withdrew from his class to volunteer for service in the Army in 1915.
Blunden saw a good deal of active service, and was awarded a Military Cross for bravery in action. In 1918, he met and married Mary Daines. Their first child, Joy, was born in 1919, but died tragically in infancy. Her death was the subject of many of Blunden's poems. That same year, young Blunden took up his place at Oxford, choosing to study English instead of the Classics. To support his young family, he took a position writing with The Athenaeum and The Nation. He also met Siegfried Sassoon, editor of the Daily Telegraph, with whom he developed a deep friendship that lasted for over 40 years.
Blunden's first book of poetry, The Waggoner, was published in 1920 to good critical notice and reviews. He also published a collection of the poetry of John Clare, a poet in whom he had developed a deep interest, and that collection inspired a wide interest in the lost poems of John Clare. That year was also the year that his second daughter was born, and named Clare, after poet John Clare.
Blunden seems to have suffered from what we now recognize as post traumatic stress disorder, and his illness put a great strain on his marriage and his life. In 1922, he followed the advice of friends to travel, and set off on a trip from Wales to Buenos Aires, and wrote about the trip in his book The Bonaventure. That same year also saw Blunden's book of verse, "The Shepherd", take the Hawthornden Prize for Poetry.
From 1924 through 1927, Blunden taught English at Tokyo University. By age 28, he had published five volumes of his own poetry, two volumes of prose, edited two major poets and become known as a prolific and well-spoken literary critic. His personal life, however, was unhappy. Mary had refused to join him in Japan, and upon his return to England, the couple was unable to heal the rift in their relationship. They were divorced in 1931. That separation cost him several friendships, and disputes over accuracies in published books cost him further friendships. In 1933, he married Sylva Norman, a reviewer with whom he worked at The Nation, but that marriage lasted only until 1939.
The Second World War hit him particularly hard. Blunden was not a political writer, but believed passionately in bringing nations together to talk and avoid war. For the rest of his life, Blunden would be misunderstood politically, labeled as both a Nazi and a communist through his attempts to foster peace and healing through literature. In 1945, Blunden married again, this time to Claire Poynting, one of his students. This marriage was to last the rest of his life.
He returned to Japan in 1947, and remained there till 1950. During his stay, he lectured and delivered speeches almost daily. In 1953, he turned down a chair at Oxford University, and moved his family instead to Hong Kong, where he remained until 1964. During those years, he was prolific, and his work gained international attention. In 1957, he was awarded a Queen's Gold Medal for Poetry. He returned to England in 1964, and was elected Professor of Poetry at Oxford in 1966. Blunden held that seat until his death in 1974.