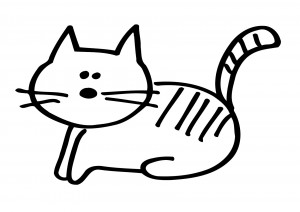 There is unlikely any domesticated animal that has captured the attention of poets more than the whimsical, predictably unpredictable cat. In fact, cats usually are placed in one of two categories: loved or despised. For the cat-lovers of the world, nothing is more enjoyable than watching a kitten play or sitting with a favorite book and a purring cat in their lap. Even on those days when the family cat is less then cooperative, the qualities displayed are still enamoring and appreciated. And for those who dislike the furry creatures, cats represent those qualities which repulsive and unwanted — usually due to the likelihood that most cats are truly their own master: they come when they want, the leave when they want, and no matter of coaxing will cause a cat to move from a comfortable place until it is ready to leave.
Cats have been featured in all manner of art and literature. Perhaps one of the most recent examples of this is the Broadway show simply entitled Cats. In this play, written by Andrew Lloyd Weber, is based almost entirely on the works of T. S. Eliot and his publication Old Possum's Book of Practical Cats. The musical focuses on the lives of a tribe of cats referred to as the Jellicles, which is a name used by Eliot in his book. This play goes on to tell of the night in which the Jellicles decide which cat will ascent into the "Heaviside Layer" and then return to a new life. One of the characters is named Asparagus, and is featured in one of Eliot's poems.
Gus: The Theatre Cat
by T. S. Lewis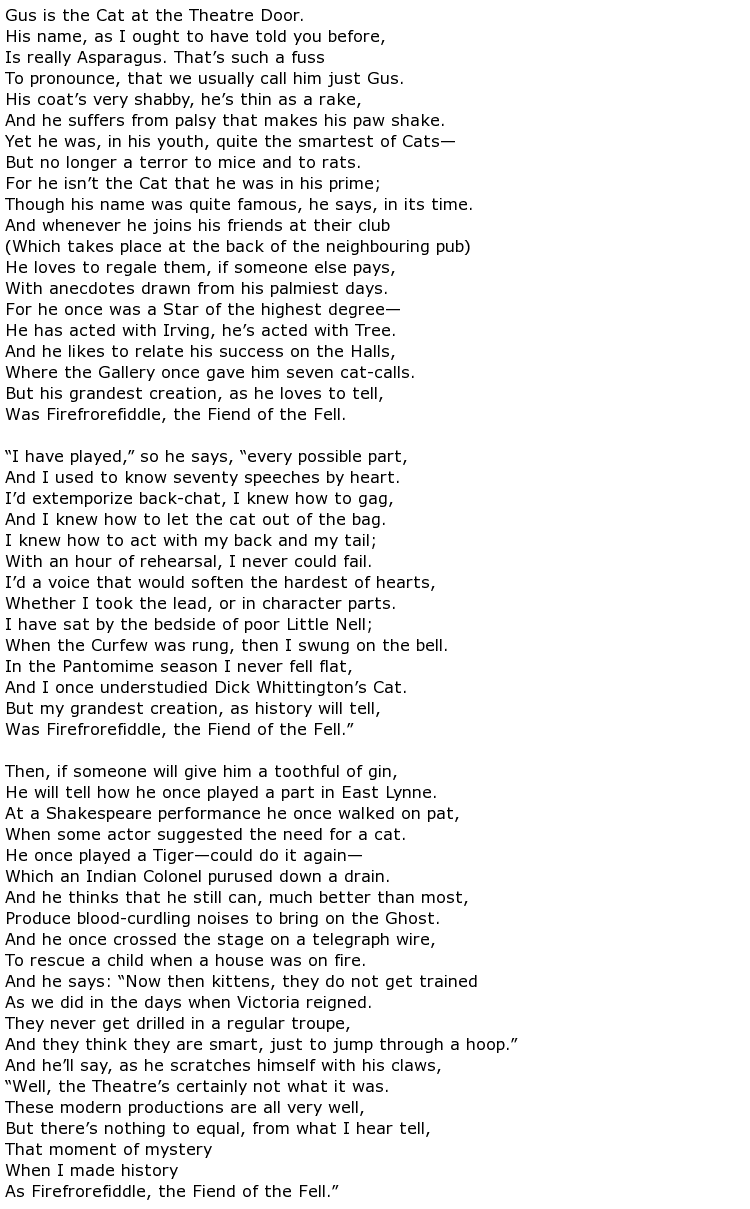 Another recent work that has captured the attention of cat-lovers around the world is a collection of poems supposedly written by cats themselves. This work, assembled by Franceso Marciuliano, shares an understanding of cats that would be appreciated by anyone who has ever owned or been owned by a cat. The book, entitled I Could Pee On This: And Other Poems By Cats, quickly made its way to the New York Times Bestsellers list. The book offers a tongue-in-cheek approach to the lives of cats and of their creative potential, especially when they are trying to explain their particular forms of behavior to uninformed and rather ignorant people around them. Marciuliano is the author of the well known Sally Forth comic strip which is syndicated internationally. One of the poems found in this collection is titled simply Kitten. It gives a very light hearted account of the life of a kitten from the kitten's perspective.
Kitten
by Franceso Marciuliano

For every person who loves cats, you can probably find one who doesn't. Of course, the poems written about cats by those who do not like them are not usually as extensive or lengthy, but are usually curt and to the point. For example, here is a very short poem which will not be enjoyed by cat lovers, but at which the other group will find enjoyable.
The Cat Hater
by Romeo Naces