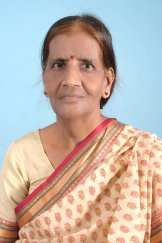 Perhaps one of the best ways to examine Hindi poems is by learning a little about the history of Hindi language. Hindi actually has its origins in Sanskrit. It has been strongly enriched and influenced by Turkish, Portuguese, Arabic, and English. It is an amazingly expressive language, and, unfortunately, the only real way to appreciate this aspect of Hindi is by learning the language itself. Whether in song or poem, Hindi has the ability to convey various emotions through the use of some very gentle and simple words. It is also a very precise language, useful for expressing rational thought and reasoning.
Contemporary Hindi is usually considered anything that was written after 1937. During this period, authors such as Mahavir Prasad Dwivedi helped to refine much of Hindi prose. Poetry, however, was the primary form for expressing issues with politics, economics, and social problems. Maithali Saran Gupta was credited with reviving the epic poem tradition, using long and descriptive narrative poems. In the early 1900s, a new subjective and aesthetic for of poetry was established, that essential shattered the tradional Hindi poetic conventions.
There are so many Hindi poets who have gained countless references in literature. Rather than select one of those, I found a Hindi poet whose story and poetry will be appreciated. This is Amrita Bharati. Many consider her to be one of the most prolific and gifted contemporary female Hindi poets. In all, she has composed seven collections of poetry as well as one volume of Hindi prose. However, in spite of her accomplishments, it seems that little of her poetry has found its way into Hindi or western poetic circles. There seems to be no current study of her poems, and several of her poetry collections are no longer in print. Her work entails a rather complicated spiritual venture that took her from a world of rather existential agony and angst to a complete refuge where she finds complete serenity — a place where thoughts actually stop and she finds her own self. This rather visionary poetry is further complicated because she takes a rather courageous step in examining her innermost world and then expressing it publicly in her poems.
In the Stillness of a Word
by Amrita Bharati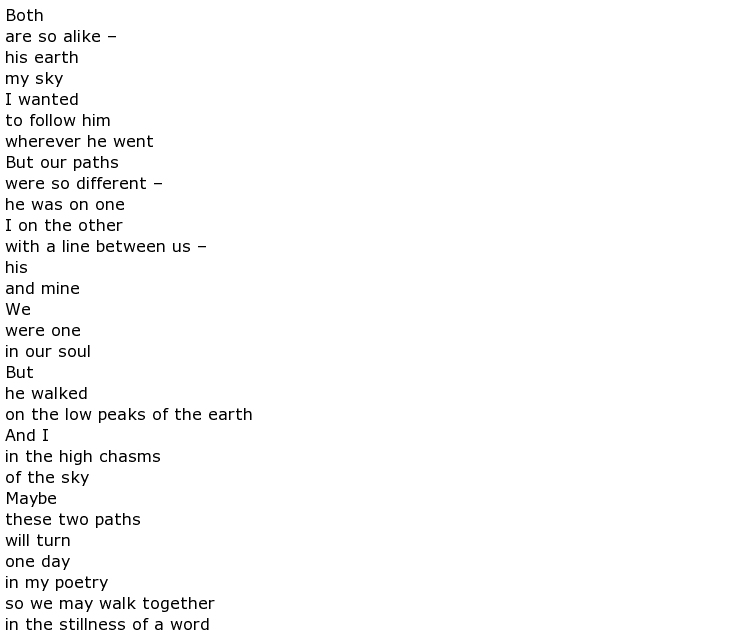 Bharati's various poems are greatly influenced by her early studies of the original Hindi language, Sanskrit, for which she holds both a master of arts degree and a doctoral degree from Benares Hindu University. Her works also express her understanding and knowledge of Hindu religious beliefs and values, as she frequently references Tantric images, Vedantic ideas, and the Krishna bhakti.
There is no real use of capital letters in Hindi, so the usage of the capital letters in the above translation are based on common English standards and not based on any Hindi requirements.