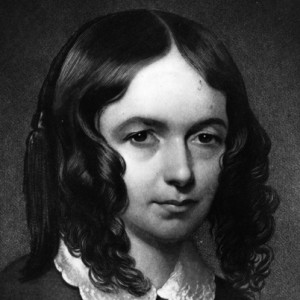 One of the most exciting days in a couple's relationship is the day on which they get married. Regardless of their age or how long they've been dating, the wedding ceremony signifies the day that they are officially recognized as a couple, husband and wife. What better way to add to the joy and happiness of a wedding event than with a well written, heartfelt poem.
Perhaps one of the most commonly used poems is one written by Elizabeth Barrett Browning. She was a very prominent poet during the Victorian era, and much or her poetry had gained wide spread popularity throughout England and the United States. Her husband, Robert Browning, published a significant collection of her work shortly after she died in 1861. The poem that most people know her for came from her Sonnets from the Portuguese, which she had published in 1850. Sonnet 43, better known by the opening line, "How do I love thee, Let me count the ways," was the next to last of the collection of 44 sonnets written about the great love she had for her then-fiance. She entitled the series Sonnets from the Portugese based on a nick-name that Robert Browning gave to her: "my little Portugee". There were two basic forms of sonnets which were prevalent at the time, a Shakespearian form used by English poets and an Italian form which was made popular by Petrarch. She chose the latter. English poets started writing imitations of these Italian poems which were called 'sonnetto'. The English poets anglicized the name to 'sonnet'. The theme of these sonnets was typically about love and romance, although they could also focus on politics or religion. Each sonnet was usually written in a series, with each one a sequel to the sonnet preceding it.
Sonnett 43
by Elizabeth Barrett Browning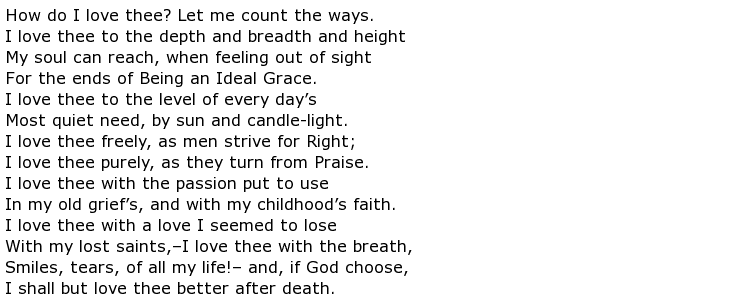 Wedding poems are not only used in the Western region of the world. Using such poems to memorialize special events, such as weddings, is extremely common. Unlike many English poems which tend to be like entries in a diary or an experiment in some new literary form, those which come from Asia are much more emblematic. The following is a simple poem by an anonymous writer which simply shares the feelings of permanence of marriage.
A Chinese Wedding Poem
by Anonymous

Another poet who used the sonnet in writing poems which are often selected for readings at weddings is Pablo Neruda. Although much of his work was a reflection of various political struggles and the developments in social history in South America, Neruda is also well known for his love poems. His work as a poet began very early in his life, and by the time he was twenty, many already recognized him as an established writer. His love poems are recognized throughout the world and regarded for their touching word play and creative rhyming.
Sonnet XVII
by Pablo Neruda