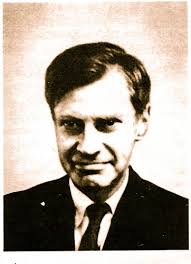 Born in Birkenhead near Liverpool in 1902, poet A.S.J. Tessimond is perhaps not the most well-known British poets of the 20th Century and suffered for most of his life from bipolar disorder. His father was known to be a member of the Church Association and once gave a lecture on the influence of poetry which may have led the young Tessimond to attempt to write for a living.
Tessimond went to school in Birkenhead until he was in his mid-teens before being sent to Charterhouse private school in Surrey. Tessimond was not happy at boarding school and, at the age of 16, ran away, heading for the bright lights of London.
By the age of 20 he was back in Liverpool, attending the University there, reading literature and philosophy. He graduated in 1926 but had begun writing poetry a few years before, getting some published in many of the literary magazines of the time. After that he worked in a few book stores and also as a copywriter.
Tessimond had the reputation of being a little eccentric and, when World War II broke out and he was put up for conscription, he went into hiding without realizing he wasn't fit for duty anyway. He spent most of his life in obscurity and it was only after his death that he began to become more widely recognized.
He published three collections during his lifetime with nearly ten years between each one. In 1934 he wrote Walls of Glass which was published by Methuen. 10 years later came Voices in a Giant City and in 1958 his final published work Selection was released. His mental health often led him to be hospitalized and he was given electroshock therapy which may well have contributed to his eventual death.

Tessimond died in 1962 when he suffered from a brain hemorrhage. After his death, a posthumous collection of his works was published under the title of Not Love Perhaps in 1972. It could be said though that the internet has given new life to this minor poet who has a most distinctive voice and does not seem to want to go away.
Whilst he was a regular contributor to many poetry magazines through the 30s and 40s with verses such as The Lonely Women in Hotel Lounges, Tessimond's work has had trouble establishing itself in the nation's psyche. His poems often contain a touch of satire and humor, though they are all the more human for the tenderness with which he treats his subjects.
Perhaps one of his more poignant short poems On The Death of a Great Man reflects his view of the world, a melancholy tribute to life's uncaring nature.

Tessimond struggled continuously with becoming a published and recognized poet and that could have had something to do with his bipolar condition. His Collected Poems released initially in 1985 was recently reissued through the publisher Bloodaxe, finding Tessimond a whole new audience in the 21st Century.