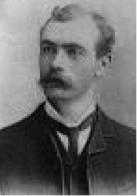 Alexander Macgregor Rose was a 19th century Scottish-born poet, journalist, Free Church minister and teacher who lived the last twenty years or so of his life in first New York City and then in two Canadian cities. He moved first to Toronto and then spent the last two years of his life in Montreal.
He was born on the 17th August 1846 in the small town of Tomantoul, Banffshire which is in the far north of Scotland. He received a good education and attended the University of Aberdeen, graduating from there at the age of 21. Within three years he was Master of the Free Church School in the Ross-shire town of Gairloch. His faith though was strong enough to fuel ambitions to be a minister of the church and he gave up teaching, returning to Aberdeen for a four-year course of study in Divinity.
He was successful in this venture and was ordained on the 9th September 1875. His first post was as a minister on the Orkney Isles at the Free Church of Evie and Rendall. The course of his life did not run true here though and he suffered some serious financial difficulties which culminated in being declared a bankrupt. For a 19th century minister of the church to be in such a state was considered unacceptable and he was forced to leave his wife and family in disgrace. He emigrated to the United States, settling in New York in June 1879.
Moving further west he secured a number of journalist positions over the subsequent years. These included the San Diego Daily Bee, the San Francisco Sunday Chronicle and, finally, the Daily Call. In addition to working as a journalist he was writing poetry but without much success and was only really known as a poet in the latter years of his life which were spent in Canada. Rose was ready to move again in 1891, this time heading north eastwards.
He took his time, enjoying travelling at a leisurely pace. He ended up in Toronto in 1895 and then, a year later, in Montreal. Here he resumed his career as a journalist on first the Gazette and then the Montreal Herald. He was, of course, in a French speaking part of Canada and his attempts at mangling the language in his poetry writing was, some say, inspired by another poet called William Henry Drummond with his "habitant" poems. Rose's humorous poems were written in what might now be called "franglais".
Some of his work was accepted for publication in Montreal newspapers with a good example being Hoch der Kaiser, although this one was a mixture of English and German of course. It became extremely popular in the years leading up to the First World War and was a slightly cruel, mocking view of the Kaiser and his supposed high opinion of himself (the poem suggests that the German ruler placed himself on the same pedestal as God himself). Here are the first three verses: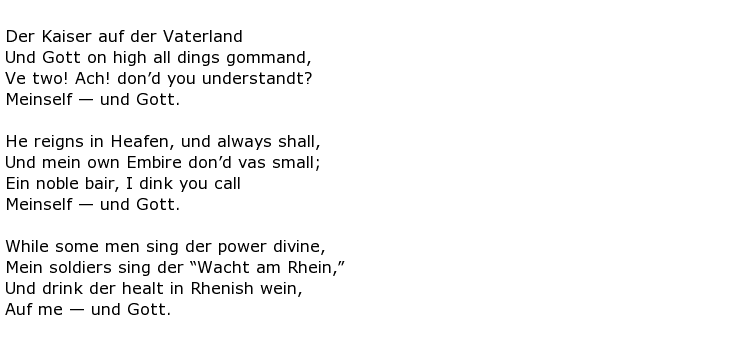 Rose had the honour of having some of his poetry read out loud while the Canadian government was in session in Ottawa. He had written a couple of satirical pieces on political matters in a magazine called Witness which came to the attention of Solicitor-General Fitzpatrick. He was so impressed by Rose's verse that he brought the magazine to a meeting of the Privy Council one morning and made a formal request that normal business be suspended while the poems were recited.
Tragedy struck in 1898 when Rose suffered a suspected paralytic stroke. He died at the Notre Dame hospital in Montreal on the 10th May 1898, aged 51.