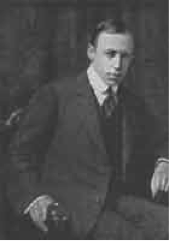 Alfred Noyes was an poet of English descent of some renown, publishing well-loved poems such as The Barrel Organ and The Highwayman.  The latter is a particular favourite, as illustrated in 1995 by a BBC nationwide poll to find Britain's Favourite Poem and The Highwayman came in at Number 15.  Born in 1880 in the west midlands town of Wolverhampton, the family soon moved to the Welsh coast where Alfred's father was a teacher of Greek as well as Latin.  The young, budding poet was inspired by the mountains and sea around Aberystwyth and his writing occupied much of his time, even when studying for a degree at Exeter College, based in Oxford.  He failed at the final hurdle here though, partly because he was discussing with his publisher about releasing his first book of poems when he should have been in college taking his finals.
The Loom of Years was that first collection and was published in 1902.  This was followed by a further five collections of poetry over the next 11 years, including the above mentioned Highwayman in 1906.  Epic pieces of work such as an account of Sir Francis Drake's career which took up two hundred pages, was released in 1908 and 1906 (two separate volumes) and he followed this with a play called Sherwood which was re-written in later years and re-named Robin Hood.
Throughout this early decade of the 20th century he wrote in a romantic style evocative of the likes of Tennyson and Wordsworth.  Tales of the Mermaid Tavern (1913) brought to life the great days of Elizabethan times, with Shakespeare and Marlowe prominent in this work.  Having married an American in 1907 he got the chance to visit the United States where he conducted lecture tours and, so successful was he in his early visits, he became a revered and much in demand travelling professor, who lectured students at Princeton for example, on English literature.  These trips continued for the remainder of Noyes's life.
With the outbreak of war in 1914 Noyes was seen as an outspoken pacifist.  He detested war and wrote many anti-war pieces such as The Wine Press.  He did serve but not in a combat role.  He was at the Foreign Office in London alongside another famous writer – John Buchan.  Much later, in a dramatic departure from his previous style of romantic, lyrical writing, he wrote a piece of science fiction that was astonishing in its vision of an apocalyptic future and it was said that it inspired George Orwell to write his famous novel 1984.  It was called The Last Man and portrayed a terrifying vision of virtually the whole of mankind destroyed by a terrible death ray.  This was written in 1940 before the concept of mass destruction by atomic bombs was thought of.
His writing took another turn in the late 1940s when he wrote children's poems from his home on the Isle of Wight.  Daddy Fell into the Pond and Other Poems was dictated due to the onset of blindness.  One of his last collections of poems was published in 1956 – A Letter to Lucian and Other Poems.
Alfred Noyes died in 1958 at the age of 77 and is buried in a cemetery at Freshwater, Isle of Wight.  To conclude, here are a couple of verses from his famous poem The Highwayman, which portray the romantic, the heroic side of this way of life: