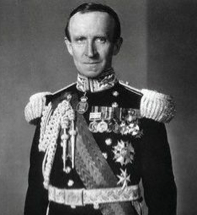 John Buchan, was a distinguished writer of novels and poetry.  He was better known for gripping adventure novels like



rather than his poetry, this story being adapted for the cinema and television screens on a number of occasions.  As a politician he served the Scottish Unionist party for many years and, for the last five years of his life, was



He was born on the 26th August 1875 in the Scottish city of Perth, the son of a Free Church of Scotland minister. His formative years were spent in Kirkcaldy, Fife and Broughton in the Scottish Borders.  He attended Hutchesons' Grammar School in Glasgow before gaining a scholarship to study the classics at the University of Glasgow.  It was here that he first found that he had a talent for writing poetry and, at the age of 20, continued his studies at Brasenose College, Oxford.  He won a number of prizes for his writing there, including the Newdigate Prize for poetry.
He was, by now, a published author and president of the Oxford Union and a distinguished career lay before him.  He joined the Diplomatic Service in 1901 and was immediately sent to South Africa.  The country had a lasting effect on him and it was featured in some of his writings, an example being a novel called Prester John which was published in 1910.  On his return to London he became a partner in a publishing company and edited The Spectator magazine.  There was a possibility that he might join the law profession but this did not come to pass and, in 1907, he married the well-connected Susan Charlotte Grosvenor who would eventually bear him four children.
He became interested in Scottish Unionist politics in 1911 and he campaigned for a Borders seat on such policies as national insurance and women's suffrage.  He hoped to see an end to the class divisions prevalent in Britain at that time.  As the First World War broke out he found himself writing for The Times as their war correspondent while continuing to work on his own fiction and poetry. This was the time when his most famous creation, the character Richard Hannay, made his bow in the acclaimed novel The Thirty Nine Steps, a book published in 1915.  Another book followed the year after and then Buchan enlisted into the Intelligence Corps, writing speeches for General Sir Douglas Haig.
His literary abilities led to an appointment as Director of Information in 1917 which basically meant being in charge of propaganda on behalf of the British war effort.  Obviously a busy man on his official work he still had time to compose poetry, a good example being one written in a strong Scottish dialect called Home Thoughts From Abroad.  It's about an ordinary soldier musing on his life after the fighting is over and he is back home once again.  Here are the opening lines: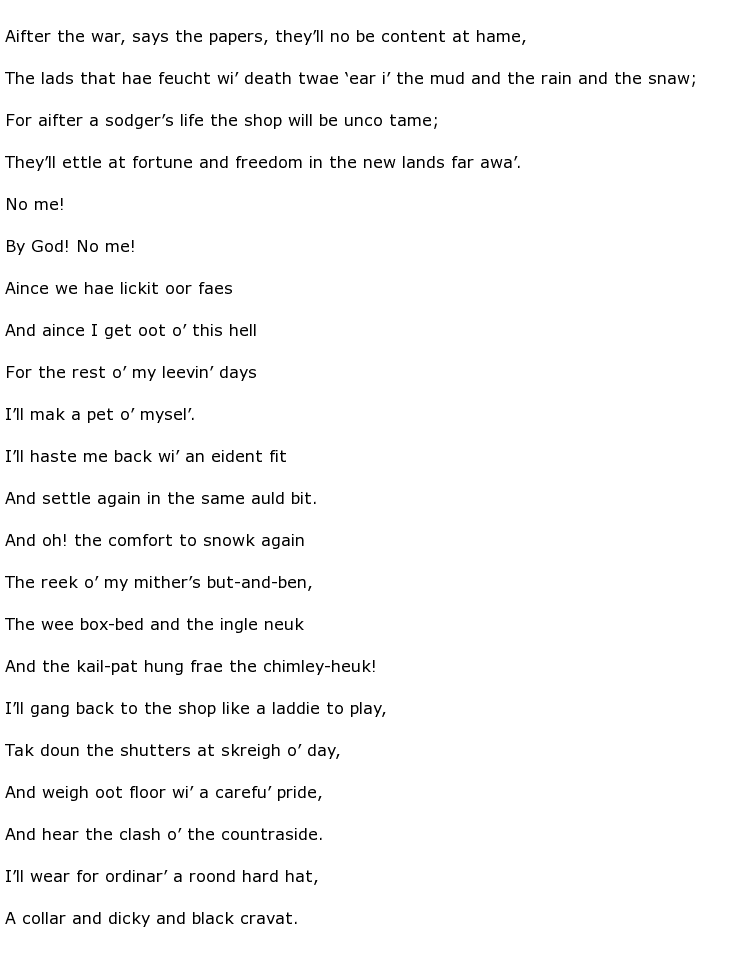 Much more came from Buchan's pen after the war, with much of his work featuring historical subjects alongside his well-established thrillers.  He was responsible for at least a hundred published works in all.  He was elected Member of Parliament for the Combined Scottish Universities and he constantly sought to push Scotland's cause as a leading nation within the British Empire.  Perhaps foreseeing the situation that exists now in the 21st century United Kingdom he famously said in parliament:



A distinguished literary and public life ended with a five year stint as Governor General of Canada, a post that was granted by King George V to the man now known as His Excellency the Right Honourable the Lord Tweedsmuir.
John Buchan died of ill health on the 11th February 1940 in Montreal at the age of 64.  He was awarded a state funeral in Canada, his ashes eventually returning to be interred at his home estate in Oxfordshire.