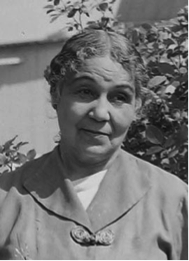 Anne Spencer was an influential, African-American poet whose long life spanned the end of the 19th and much of the 20th century.  Along with compatriots like Countee Cullen and Langston Hughes, Anne wrote about the struggles of black people to establish themselves in America.  She was one of the driving forces behind the Harlem Renaissance and New Negro Movements of black literature.  Of particular note she became the first black Virginian poet to see her work included in the prestigious Norton Anthology of American Poetry.  Besides being a prolific and talented writer though she cared deeply for the welfare of all poor people in America and worked towards achieving social equality throughout her life.
She was born Annie Bethel Bannister in Henry County, Virginia in February 1882 and was an only child.  Her parents split up when Anne was very young and her mother took her to Bramwell, West Virginia but experienced such financial difficulties that she was forced to place her daughter with a respectable black family.  In stark contrast to her illiterate mother, Annie had a voracious appetite for reading.  She learned much about the use of the language from reading any newspaper that she could get hold of, as well as cheap novels from local shops.
Despite her family circumstances Annie managed to get a decent education at the Virginia Seminary, from where she graduated in 1899.  It was here that she met her future husband, Edward Spencer, and the couple were married two years later.  As well as managing to raise three children, Annie developed as a writer of poetry aided by her associations with other Harlem Renaissance writers such as James Weldon Johnson.  He claimed that he had not only discovered her but was also responsible for her adoption of the shortened name Anne Spencer.  Johnson introduced her to others such as H L Mencken and it was he who started Anne's published poetry career with the poem Before the Feast at Shushan.
The period between the 1920s and 1940s was when most of Anne Spencer's poetry was published, often appearing in prestigious anthologies such as



and



Anne saw the world as a difficult place for humans to flourish and many of her poems were about this struggle to find true happiness and meaning in their lives.  There were religious themes in many poems such as At the Carnival and Change.  Conversely she introduced mildly erotic elements into pieces such as Black Man O' Mine which was a celebration of black love: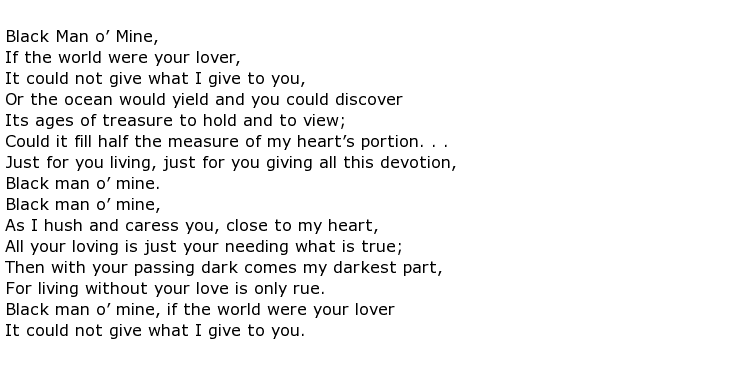 Unlike many other writers Anne did not go on lecture tours or worldwide promotional visits.  She actually lived and worked for most of her adult life in her home in Lynchburg, Virginia.  The great and the good from the black community of writers and musicians came to her, rather than the other way about.  She hosted such luminaries as W E B du Bois and Paul Robeson and wrote her poetry in her own quiet, introspective way.  Not much of this work survived but she still made a significant mark in the field of African-American female writers.
Anne Spencer died in July 1975 at her home in Lynchburg, aged 93.