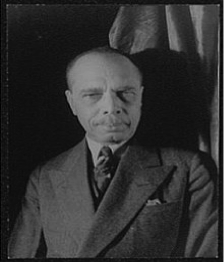 James Weldon Johnson was a man of immense and varied talents, who was a novelist, poet and noted civil rights activist.
He was born June 17th 1871 in Jacksonville, which is located in Florida, USA to James Johnson and Helen Dillet who was a musician and grammar school teacher. His father was a head waiter at a luxury hotel and it was the achievements of his parents that gave Johnson the confidence to follow a professional career.
It was his mother who gave young Johnson an education in music and English literature. He attended both high school and college classes within Atlanta University and completed his educated here in 1894. Johnson considered his education to be a privilege and a tool with which he could help black people and combat racism and injustice. He joined Phi Beta Sigma, an international collegiate fraternity which exists to this day. He is also remembered for his leadership with the NAACP (National Association for the Advancement of Coloured People), and for being one of the first African-American professors at New York University. In 1898 he was called to the bar in Florida and served as a lawyer and within the following forty years he worked in education (as professor of creative writing and literature at Fisk University), in civil rights activism, in the diplomatic corps, and the arts.
In 1901 he added another string to his bow when, with his brother John and friend Bob Cole, he arrived in New York City to write songs for musicals. Over five years they achieved considerable success, writing over 200 songs for Broadway. This was the start of his writing career.
Whilst continuing to write Johnson was appointed, by Theodore Roosevelt, US Consul for Puerto Cabello, which is in Venezuela. He kept this post between 1906-1908, then served at Nicaragua for 4 years. It was in Nicaragua that he married Grace Nail, who went on to become an skilled artist in her own right. And it was here that he published, anonymously, his first novel, The Autobiography of an Ex-Coloured Man in 1912. He also at this time wrote his acclaimed poem, Mother Night:

Johnson was determined to fight for equality for black people and felt he could prove the worth of a black man by the production of great art and literature. He felt that his role through life was to combat the deeply-held racial prejudices which were held at the time. Most importantly it was through his ten-year tenure with the NAACP that he was able to educate and fight against racism and segregation. In 1930 he resigned his post with NAACP to devote more time to writing, but taught creative literature at Fisk University on a part-time basis.
Inspired by the preachers' sermons he'd heard as a boy, he wrote, in 1927, possibly one of his most famous volumes, God's Trombones; Seven Negro Sermons. Johnson said that this particular instrument:

James Weldon Johnson died in 1938 when his car was hit by a train. Over 2000 mourners attended his funeral in Harlem and he was buried in Brooklyn's Greenwood Cemetery along with a copy of God's Trombones.