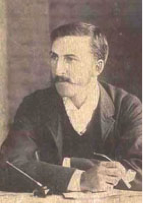 Barcroft Boake was a tough 19th century Australian stockman and drover while at the same time he was a sensitive, if unstable, character. He wrote poetry about the injustices meted out to his fellow workers by usually uncaring, and often absent, land and stock owners. He seemed to be at home out in the bush and it was said that he looked better on a horse than off, so adept a horseman was he. He found quiet times during rest periods to write and it would be easy to speculate how great a poet he might have become had he lived longer. Tragically he committed suicide when only 26 years old.
He was born Barcroft Henry Thomas Boake on the 26th March 1866 in a small town called Waterview Bay which lies in the New South Wales district of Balmain. His father was an Irish immigrant from Dublin and he was part of a large family which suffered more than its fair share of tragedy. Barcroft not only lost siblings in their infancy but his mother died during childbirth as well when he was 13. Although he showed signs of being a normal, active child, interested in sporting activities, he also had a developing sense of melancholia which would, eventually, claim his own life.
His early years were in the Sydney area which was, at that time, undeveloped bush country. His father distrusted the state schooling system and put Barcroft through a series of private establishments. He seemed to be an able and willing pupil and learned some French at one point as well as showing signs of the writing ability that would come later. On leaving his education behind he trained as a surveyor and found employment as an assistant in that field for at least two years. This was in the Monaro district of New South Wales and his time here was largely happy and inspirational.
There was, however, one incident here which turned out to be a foretaste of what was to come only four years later. He and a friend went through a mock hanging ceremony which almost killed Barcroft. He wrote about it, both in the Bulletin and in a personal account to his father. His mind was clearly disturbed and, perhaps in an attempt to clear his mind, he sent off north and worked as a cattle drover in various places in Queensland. When he had the time he enjoyed reading poetry by Adam Lindsay Gordon and prose by Emile Zola. He saw his fellow stockmen as fine fellows, often superior to the "….so-called respectable dwellers in towns". He wrote poetry about the privations and hardships experienced by those who chose the "back-country" lifestyle. He also wrote about the often sensitive side to a bushman's character, a good example being his poem A Bushman's Love. Here is the first verse: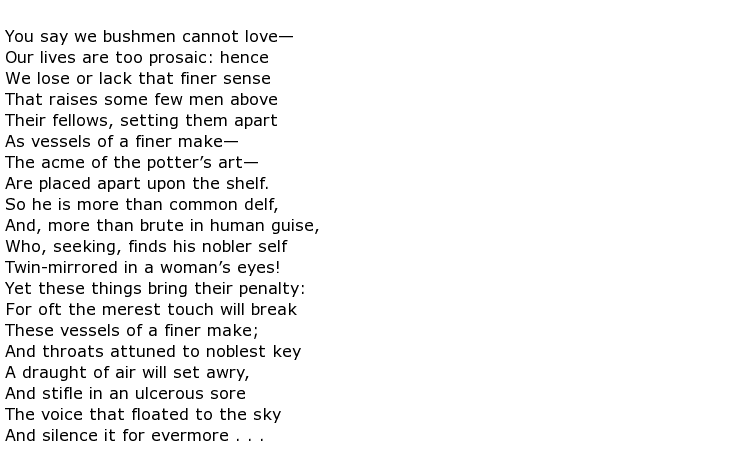 The other side of the coin though is the hard life endured by such men and yet, even here, there is some romance to be found. He described it thus:



His wandering life took in sheep and cattle stations and he made money and lost it just as easily, often on drinking sprees. Eventually he settled once more to surveying and also trying to get his poetry published. Some appeared in the Sydney Mail and others in the Bulletin around the years 1890-91. At the end of 1891 he returned home to find deep financial gloom everywhere with his father on the point of bankruptcy. Boake's state of mind deteriorated rapidly to the point where he seemed unable to make any decisions about anything either for the present or the future. He was unable to find work and, clearly in a state of depression, he left the house on the 2nd May 1892 and no one saw him alive again.
Sometime during the next eight days he hanged himself from a tree using his own stock whip. Barcroft Henry Boake died in May 1892 aged just 26. His work was collected and published posthumously and critics have speculated on whether or not his best work was already done. The question will always remain concerning whether even better work might have come from this tragic and troubled figure.