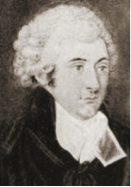 Barron Field was an English poet, judge and botanist who spent much of his working life in the Australian colonies of New South Wales as well as holding legal appointments in Ceylon (modern day Sri Lanka) and Gibraltar. He was something of a minor poet but he does have the distinction of being the first published poet in Australia. First Fruits of Australian Poetry appeared in 1819 but was a very slim volume of only two poems. While in London he was the theatrical critic for The Times newspaper and considered himself to be part of an exclusive literary circle which included Charles Lamb, William Wordsworth and Leigh Hunt amongst others.
Barron Field was born on the 23rd October 1786 in London, the second son of Henry Field who was a surgeon and apothecary. He received a good education which led to training as a barrister and a call to the bar in 1814. Two years later he was appointed as a judge at the Supreme Court of New South Wales. He arrived in Sydney on a ship full of female convicts in 1817 to take up this appointment.
In addition to writing a legal paper setting out the



he busied himself writing poetry. The short collection First Fruits of Australian Poetry was unfavourably reviewed by his former friend in England, Charles Lamb, who commented that Field had abandoned his friends and family



His review of the two poems in the book – The Kangaroo and Botany Bay Flowers included accusations of plagiarism. He suggested that [in the second poem]



Not all offered criticism though. It was said that both Wordsworth and Coleridge admired Kangaroo while others dismissed Field's writing as "doggerel". Here are the opening two verses of The Kangaroo: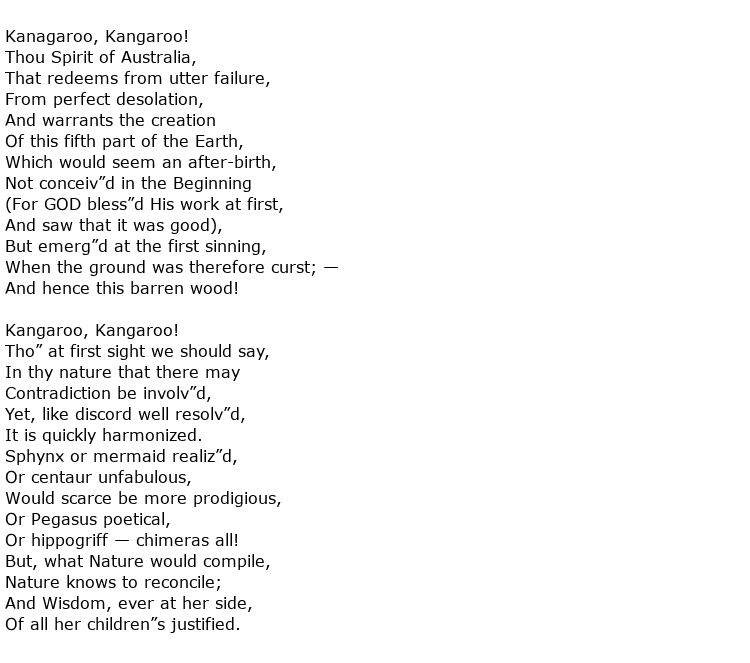 Unfortunately, it seemed that his poetry ambitions were getting in the way of his legal responsibilities. On arrival in Australia he had given a favourable impression of his character and his abilities as a judge but these opinions were soon revised. Some said that he was being paid, in salary and the allocation of land, far in excess of what he was worth. Field was described by the political activist John Dunmore Lang as a "weak silly man who fancied himself a poet born". He was not a popular man in government circles either and it was perhaps inevitable that he would not stay in the colonies for too long. He did however immerse himself in humanitarian issues while there, taking a deep interest in Aboriginal issues. He also set up a savings bank.
Before leaving he penned a book on botany and other scientific matters called Geographical Memoirs on New South Wales which was published in 1825. During the next five years Field was on his travels again, to Ceylon and Gibraltar, where he held legal appointments once more, although the derisory salary offered in Ceylon meant that he did not remain in that post for very long. During his time in Gibraltar he published another collection of poems called Spanish Sketches.
He retired from legal life in 1844 and returned to England, settling this time in the Devon coastal town of Torquay where he dedicated the rest of his days to writing. He studied Elizabethan drama and edited two plays by Thomas Heywood.
Barron Field died in Torquay on the 11th April 1846, aged 59. His wife survived him for 32 more years. They had no children.