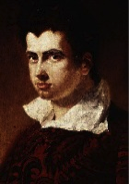 The English-born writer James Henry Leigh Hunt was a controversial figure who attracted the patronage of more successful writers than himself while, on occasions, appearing to openly criticise his benefactors in print. Hunt wrote and had published a great deal of poetry but he also turned his hand to plays, some of which were staged in the London theatres. Besides this he sold many pieces of work to newspapers and magazines, usually of a critical nature on often famous individuals within English literary circles.
He was born with the shorter name – Leigh Hunt – in October 1784 in London. His parents were both Americans who had fled the United States because they had displayed loyalist tendencies while the American War of Independence raged about them. His father, a lawyer, hoped to become a preacher but did not achieve much success in this venture and eventually settled on a tutoring role.
Hunt was a pupil at Christ's Hospital school up to the age of 15, a school that had previously been home to such luminaries as Samuel Taylor Coleridge and Charles Lamb. He became deeply interest in poetry and admired the work of Thomas Gray and William Collins. He would have gone on to university but it was reported that a speech impediment barred his way. He was determined though to have his work published and, in 1801, his first volume of poetry (Juvenilia) was his gateway into London literary circles.
Although he began his working life as a junior clerk with the War Office, he left that to begin writing for newspapers and he enjoyed very much producing critical pieces on the theatre. Hunt joined his brother's paper "The Examiner" and soon incurred the wrath of the likes of William Blake because of the vitriolic nature of his columns. Blake described the paper's location as a "nest of villains". It seemed that no one was safe from attack by this publication including, in 1813, the Prince Regent. For his pains Hunt suffered a two year prison sentence, along with his two brothers, although life in the Surrey County Gaol could not be described as arduous.
It was still a loss of liberty though but Hunt was pleased to find that he had not lost his friends as well. Illustrious visitors included Charles Lamb, Thomas Moore and Lord Byron to his elaborately decorated and quite comfortable cell. There was great interest in Hunt's work for "The Examiner" between 1814 and 1817 and some of it, including other essays written by William Hazlitt, was collected and published in book form, called The Round Table.
In 1816 Hunt's reputation as a poet was established with the Story of Rimini which was a tragic subject on the face of it but was treated with a degree of flippancy by Hunt, thus bringing ridicule down upon himself from other critics. He followed this with collections of poetry such as Foliage (1818) and Hero and Leander (1819). He lived and worked amongst a distinguished group of writers including Shelley and Keats and yet, despite his connections, his financial circumstance fluctuated quite dramatically.
At one point in the late 1830s he was living in absolute poverty and was only rescued by the generosity of others who helped him over the difficult times. He was soon back on form, writing a number of successful plays as well as more poetry. Ultimately, Hunt was one of the great English writers of the first part of the 19th century. His poem Abou Ben Adhem has been familiar in schools for generations: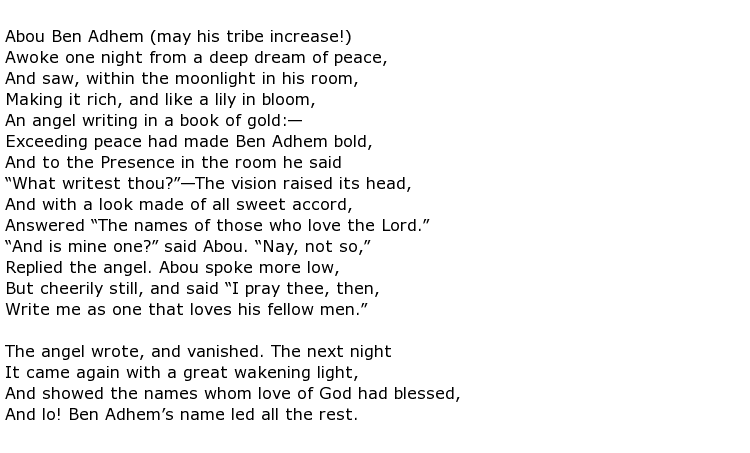 James Henry Leigh Hunt died on the 28th August 1859 in London, aged 75.