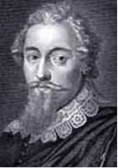 Over the last 300 years or so literary critics and students of Elizabethan dramatists have debated the various merits of these two writers. Francis Beaumont and John Fletcher wrote plays and poetry together during the reign of King James I, probably during the first fifteen years of the 17th century. Some will argue that the one was more influential than the other, while others will say that they added equal input to the considerable body of work. Sometime after the deaths of both writers the famous Beaumont and Fletcher Folios were produced. There were two parts to this – the first published in 1647 and the second in 1679. In essence these were collections of dramatic works by the pair which have become a reference work for typical English Renaissance drama.
It is believed that Beaumont and Fletcher were around during the years 1584-1616 and will probably have started their collaboration as a pair before taking contributions from other poets and dramatists at various points. History shows that this kind of writing in groups was fairly common during Elizabethan times and even the likes of William Shakespeare will have been a contributor to their work.
The first folio collection contained at least 34 plays and a masque and, incredibly, this was all new work that had never been seen during the authors' lifetimes. Scholars and critics at the time were happy to consider this collection as the work of a partnership, with no credit given to one above the other. Again, in 1679 when the second folio appeared, there was no attempt to separate the writers. There were 53 plays in this collection.
In later years though some doubt was cast over the origins of some of the pieces with questions asked over the authorship. The English dramatist Philip Massinger is quoted by many as being a major contributor. It is a story full of intrigue with many critics saying that Fletcher wrote more than his partner while others say that Beaumont was actually superior in his writing style and ideas. It is almost certain though that Fletcher was the more prolific of the two writers but it seems that he was happy for his work to be advertised as being a team effort, even those pieces that he wrote by himself.
Many other names have been thrown into the mix as co-collaborators; in addition to the two already mentioned should be added Nathan Field and William Rowley. Despite this the work was always advertised as being that of "Beaumont and Fletcher." The plays written varied in tone and subject matter. There were comedies such as The Woman Hater (1606), tragicomedies such as Love' Pilgrimage (1615) and tragedies like Thierry and Theodoret which was written in 1607 but was subject to later revisions by Massinger.
Let us not forget though that while the vast majority of their work was drama they were both poets as well. Perhaps it should be assumed that their poetry was all their own but there is no way to verify that. Here is a mournful pieced called Lay a Garland on My Hearse:



In a slightly more upbeat tone, here is an extract from Poet's Mood:



There are no clear indications of when either were born or died but some historians suggest that they had relatively short life spans covering the years 1584 to 1616. Both would, therefore, have only survived into their thirties.