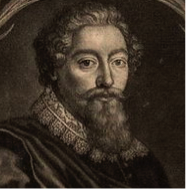 Francis Beaumont was an English poet and playwright of the Jacobean era who also had brief ambitions to be a lawyer, though these came to nothing in the end. He is probably best known for his collaborations with dramatists such as John Fletcher with whom he wrote a number of comedies and tragedies for the London stage.
He was born sometime around the years 1584 or 1585 near the small Leicestershire village of Thringstone. His father, Sir Francis Beaumont, was a justice of the common pleas and owned the former monastery of Grace-Dieu, and young Francis spent his childhood there. He was educated at Pembroke College in Oxford although, at the time, it was known as Broadgates Hall. He did not stay long enough to complete his degree course though as, following the death of his father in 1598, he sought to follow in his legal footsteps. He was admitted to London's Inner Temple in 1600.
Beaumont did not apply himself diligently to his work as a trainee lawyer, choosing instead to pursue a writing career under the tutelage of the famous Ben Jonson. He moved in London's lively literary circles for a while and, at the young age of 18, produced his first piece of work – Salmacis and Hermaphroditus. His only real success though, as a playwright, came when he teamed up with Fletcher. Notable among these was a play called Philaster which was staged at both Blackfriars and the Globe Theatre by the prestigious King's Men players.
It is believed that the two men shared a house on the south bank of the Thames and that was not all that they shared. Clothes, household accoutrements and "a wench" were all considered to be mutual property until Beaumont married heiress Ursula Isley in 1613. After this he didn't feel the need to work as a dramatist any more, not needing to earn his living.
During a seven-year association Fletcher's was always the dominant hand in their dramatic collaborations but, of course, Beaumont penned a number of poems by himself. In 1607 he produced verses that were added to Ben Jonson's work Volpone, Beaumont considering that these were "in honour of his good friend".
He also wrote a poem dedicated to Fletcher called To My Friend Mr John Fletcher, Upon His Faithful Shepherdess and he was also the author of elegies, a good example being A Funeral Elegy On The Death Of The Lady Penelope Clifton. Despite the clearly "bachelor" lifestyle that he had enjoyed with Fletcher, Beaumont also had a romantic streak in him, as evidenced by the following poem about the kind of girl that he would like to marry. It is called True Beauty and is reproduced here: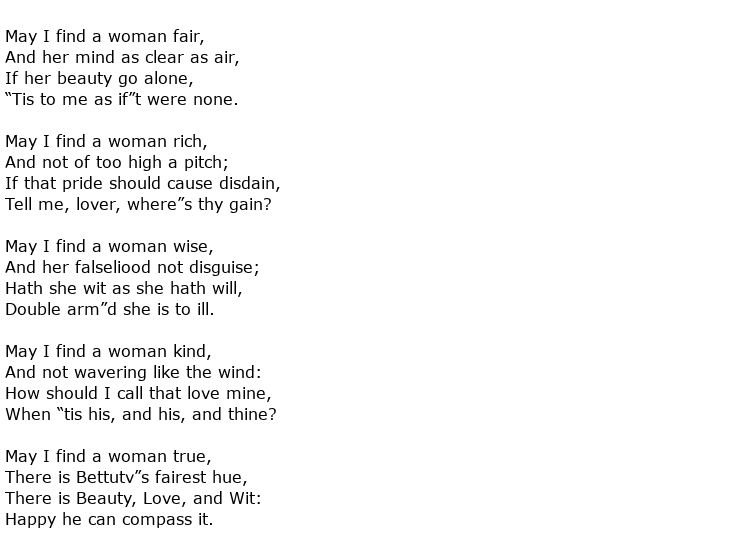 Unusually for one so young, Beaumont had a stroke some time during the year 1613 and this effectively silenced him as writer. No more plays were written although he did manage a few lines of verse, including the elegy for Lady Penelope Clifton mentioned above.
Francis Beaumont died on the 6th March 1616 at the age of 32 and was buried in Westminster Abbey.