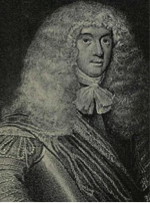 Charles Cotton was a 17th century English poet who also contributed to sporting publications such as Izaak Walton's The Compleat Angler. He also wrote a guide to different sports and games called The Compleat Gamester. He was a well-known translator and one of his most significant projects involved translating into English the work of the French Renaissance philosopher Michel de Montaigne.
He was born on the 28th April 1630 at a grand residence called Beresford Hall which is in Staffordshire, close to the edge of the Derbyshire Peak District. His father, also called Charles, associated with a number of famous writers of the day such as Izaak Walton and Ben Jonson. The young Charles was tutored privately by a former fellow of Brasenose College, Oxford and he enhanced his education with European travel, in France and possibly Italy.
He inherited his father's estate at the age of 28 and settled into the comfortable life of a post-Civil War Royalist gentleman, following country pursuits. He had befriended the author of The Compleat Angler during the latter years of his father's life and soon fell into the happy pastime of fishing on the River Dove, where he had a cottage, and also writing about it. He added some twelve chapters to Walton's book on the subject of fishing for trout and grayling in a clear stream, taking advantage of the beautiful location in which he fished. He also added poems to subsequent editions of the book, including one called The Retirement.
A lot of Cotton's work describes his obvious love of river fishing. Here is a typical example, where he waxes lyrical on the joys of preparing his fishing tackle, with hooks and flies and floats all in the right boxes, describing such a joyful yet violent day. After all the end result is the killing of as many fish as he can catch. Here are the first four verses of his poem An Angler's Ballad: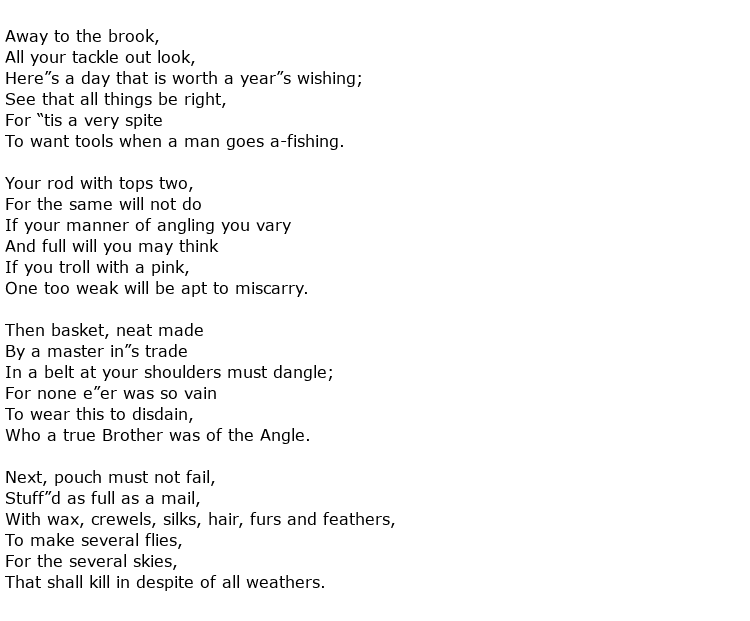 Cotton also had a passion for numerous indoor and outdoor games and sports and wrote The Compleat Gamester to espouse the joys of card games, billiards, cock fighting and horse racing, and many other pastimes. This 1674 publication remained, for almost a century, as the standard reference work on such pursuits until it was superseded by a similar piece of work by one Edmond Hoyle in 1750.
He had a reputation as a burlesque writer but, despite this, his work was much admired by such luminaries of the literary world as Coleridge and Wordsworth. He perhaps devoted a little too much time to the pleasures of the river bank and entertained many of his friends at his cottage in Derbyshire. It was described as having



Despite the wealth gained from his original inheritance and the money he made from writing, Cotton fell into debt in his later years and was insolvent at the time of his death. What was left of his estate went directly to his creditors. His work, though, lived on and the composer BenJamin Britten adapted The Evening Quatrains for his own musical piece, in 1943, which he called Serenade for Tenor, Horn and Strings.
Charles Cotton died on the 16th February 1687, aged 56, and was laid to rest in London, in the graveyard of St James's Church, Piccadilly.