This Canadian writer was usually referred to as Charles G D Roberts, and became so famous throughout his homeland that he is generally recognised as the Father of Canadian poetry, being one of the very first of his compatriots to achieve worldwide fame and influence as a poet. Throughout his life he was a constant champion for Canadian literature, encouraging readers to explore the work of established authors while mentoring up and coming new writers whenever he could. The themes of his work tended to centre on the natural history and features of Canada and he produced a number of volumes of verse along with travelogues and some works of fiction. He was one of the four "Confederation Poets", writers who established themselves at the time of Canada's breakaway from British colonialism in order to form the Federal Dominion of Canada in July 1867.
He was born Charles George Douglas Roberts on the 10th January 1860 in Douglas, New Brunswick, the son of an Anglican priest. His father provided private tuition during his early years and encouraged his son to get three articles published in The Colonial Farmer when still only 12 years old. The family moved in 1873 and Charles went to the Fredericton Collegiate School followed by the University of New Brunswick, where he attained a BA and then, two years later, an MA. His headmaster at Fredericton instilled in Charles a love of classical literature and got him reading and appreciating the poetry of Algernon Charles Swinburne and others.
Roberts entered the teaching profession in 1879 and was starting to get his work published in prestigious publications such as the Canadian Illustrated News and the American Scribner's magazine. His first volume of poetry was published in 1880, called Orion and Other Poems, and this received a number of encouraging reviews. He was described as a writer…

Roberts was married the following year and he went on to father five children.
He entered the world of academia in 1885 as a professor at the University of King's College, Windsor, Nova Scotia, but this lasted only ten years. While teaching he still found the time to publish numerous poems in a variety of American periodicals but decided to take up writing full time on leaving the college. His first novel appeared in 1896, called The Forge in the Forest. His ambition to become a great writer meant a separation from his wife and family when he moved to New York City the following year.
He wrote a lot of animal-themed stories and occasionally dipped into historical romances. Much of his work was an exploration of the beauty of the land of his birth and a good example is Canadian Streams. Here are the opening verses from this poem: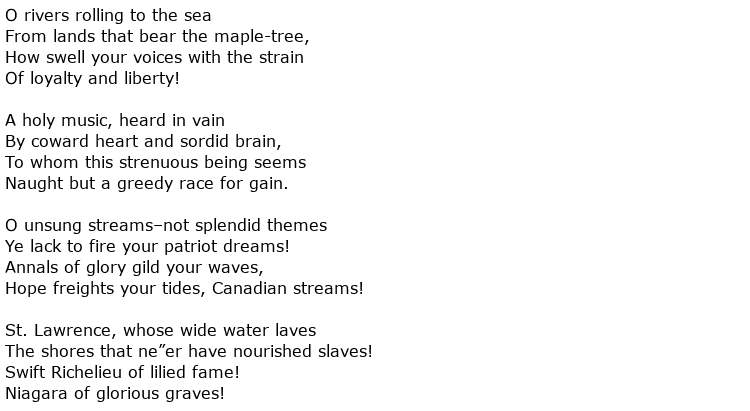 He lived for a number of years in England, France and Germany and even enlisted in the British Army during the First World War. He did not see Canada again until 1925. Roberts won numerous honours and awards during his lifetime from both the American and Canadian governments but his ultimate accolade came in the form of a knighthood from King George V in 1935. He received the Knight Commander of the Order of St Michael and St George.
In 1943 Sir Charles married for a second time but he soon fell ill and died shortly after, in Toronto.
Sir Charles George Douglas Roberts died on the 26th November 1943, aged 83.