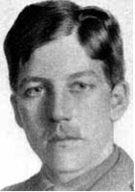 Charles Hamilton Sorley was a Scottish poet born at a tragic time in European history. He barely had time to complete his education before being sent to his doom on the battlefields of World War One. In his short life though he produced some powerful poems which were regarded by many literary critics as some of the most important written by the famous war poets. His name is one of the sixteen inscribed on a stone of slate which sits in Poets Corner, Westminster Abbey. The stone contains the poignant message from another war poet, Wilfred Owen:



Sorley was born in the far northern Scottish town of Aberdeen in May 1895, the son of William Ritchie Sorley. At the age of 13 he was sent away to study at Marlborough College and remained there for five years. One of his contemporaries at the school was Siegfried Sassoon, a man also destined to become a tragic war poet. While at Marlborough, Sorley seemed to enjoy the solitude experienced by the cross country runner. He was never happier than when out running in the driving and often freezing cold Scottish rain and some of his early poems reflected this pursuit. One was called simply Rain. Another was The Song of the Ungirt Runners and here is the first verse of that poem:



Sorley won a scholarship to Oxford but the clouds of war were already darkening and it seemed unlikely that he would be able to take his place there. Instead he moved to Germany for a short time to study the language and culture. At the outbreak of war he was ordered to leave the country and he returned to Britain ready to volunteer for military service. He was commissioned into the Suffolk Regiment and, as a young Lieutenant, he was sent to the Western Front in the Spring of 1915. By the Autumn of that same year he would be dead.
He barely had time to make his mark as a poet and yet Charles Sorley was praised by the likes of Robert Graves who gave him the accolade of "one of the three poets of importance killed during the war", the other two being Wilfred Owen and Isaac Rosenberg. Sorley's way of writing was in stark contrast when compared to the sentimental style of writers like Rupert Brooke. Sorley wrote with passion and anger, as evidenced by the words in his last poem When You See Millions of the Mouthless Dead. This was found in his kit bag when his belongings were sorted following his death and the poem contains some of his most famous lines:


As was common on active service Sorley quickly rose through the ranks and was soon a young Captain. Tragically, as the Battle of Loos raged around him, a sniper's bullet to the head claimed his life.
Charles Hamilton Sorley died on the 13th October 1915 aged only 20 years old. His poems were gathered together and published soon after. They were a critical success and six editions were produced during the year 1916.