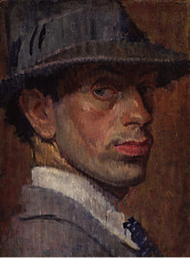 The name of Isaac Rosenberg is one the famous 16 that is engraved on a slate stone that can be found in Poets' Corner, Westminster Abbey. This simple memorial is to commemorate noted poets of the First World War and was unveiled in 1985 on that significant date, 11 November.
Isaac's parents were of Russian descent but they had fled the anti-Jewish pogroms seen in Lithuania at the end of the 19th century. He came into the world in November 1890 in Bristol and, when aged seven, the family uprooted to a deprived district in the London's East End that had a solid Jewish population. Three years later they went to Stepney so that Isaac could attend a good Jewish school. He only stayed on until he was 14 though and, having developed an interest in writing poetry as well as the visual arts, he took an apprenticeship as an engraver.
He was able to go back to his schooling at the Slade School where he took up poetry on a more serious level, coming under the influence of Edward Marsh and Laurence Binyon while there. He was also an accomplished artist and a self portrait hangs in London's National Gallery (see picture above). His health was not good though and he suffered bouts of bronchitis. Isaac was encouraged to move to the kinder where his sister Mina lived, to live with her.
He wrote a poem whilst living in Cape Town called On Receiving News of the War while. Some writers wrote in a jingoistic way about self sacrifice and patriotism but Rosenberg went against that trend. He was fiercely against the whole affair from the very start but he was, nevertheless, sucked into it in 1915. His mother was in dire need of financial support and he decided the best way to help her was to return to England and enlist into the Army.
He served in France and, in 1916, wrote a letter to his friend Laurence Binyon containing the following line:


His words were prophetic. Serving as a Private soldier with KORL on the Somme, Rosenberg was looking forward to the end of the war. It was the beginning of April, 1918 and he had just completed a night patrol when he was murdered. Maybe fatigue was a factor, maybe he was just unlucky. Some say he was shot by a sniper; some say he had engaged in hand to hand combat. Whatever the cause, Isaac Rosenberg was dead, aged only 28. He was entombed in a grave for the masses at first but his body was later interred in one of the many Commonwealth War Graves cemeteries, this one being in the Pas de Calais, which is situated in northern France.
The previously mentioned 16 Great War Poets all have their merits and are all acknowledged to be great poets in their own right. One scholar of the WW1 poets though has described Rosenberg's poem Break of Day in the Trenches as "the greatest poem of the war." Here is an extract: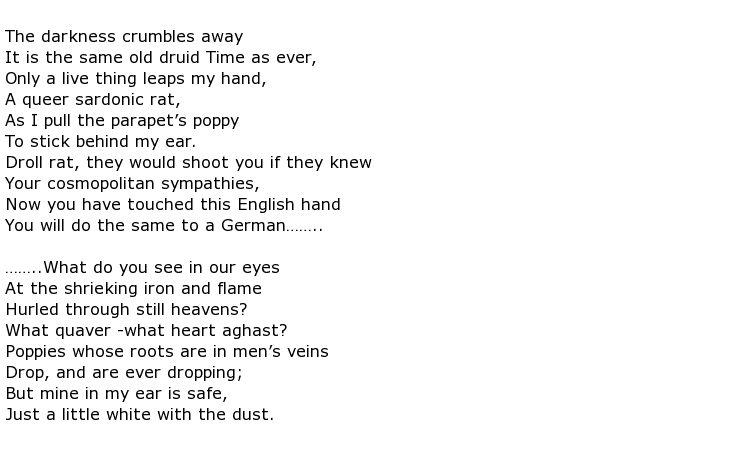 His collection Poems from the Trenches received similar recognition. It has been said that the collection contains some of the most outstanding poetry written by anyone during the First World War.