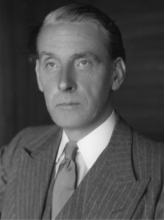 The English writer Charles Langbridge Morgan was primarily a novelist and playwright and, to a much lesser degree, he was a poet who had his poems published initially in the Westminster Gazette during the early part of the 20th century. In 1917 his wartime poem To America achieved great recognition when it was included in A Treasury of World Poetry, a collection edited by George Herbert Clarke. He won a number of awards for his writing including the James Black Memorial Prize for fiction, in 1940. He also had a long journalistic career, writing theatrical reviews mostly in various newspapers and publications.
He was born on the 22nd January 1894 in Bromley, Kent, of Welsh and English parentage. His father was the railways civil Engineer Sir Charles Langbridge Morgan. It seemed as though he had a naval career ahead of him at one point as he studied at two Royal Navy Colleges (Osborne and Dartmouth) and then served in the China Fleet, up to 1913, as a midshipman. He left this life to take up studies at Oxford but then, of course, the First World War started so it was back to his naval duties where he found himself interned in the Netherlands. This gave him the opportunity to write, and a best-seller came of it – a novel called The Fountain.
Once hostilities were over he returned to Oxford, to Brasenose College where he studied while continuing to write. His main themes were art, love and death, exploring the complex relationships between all three but he also explored the concept of freedom in The Voyage and the constant conflict between good and evil in The Judge's Story.
He married the Welsh novelist Hilda Vaughan in 1923 and they produced two children. During the early years of his married life Morgan was working as a drama critic on The Times newspaper, remaining in this post for almost twenty years. He also contributed weekly London theatre reviews to the New York Times along with articles in England for the Times Literary Supplement and the Sunday Times.
His life as a playwright began in 1938 with reasonable success in Paris and London for The Flashing Stream. Another production, The River Line, was a Second World War story of escaping British prisoners of war and was adapted from Morgan's novel of the same name, written in 1949.
Much earlier he achieved a modicum of success with his 1917 poem To America which is a mournful piece touching on the contrast between the sick and dying "old world" of war-ravaged Europe with the "fruits of hope" that lie across the ocean in new-world America. Here is the poem: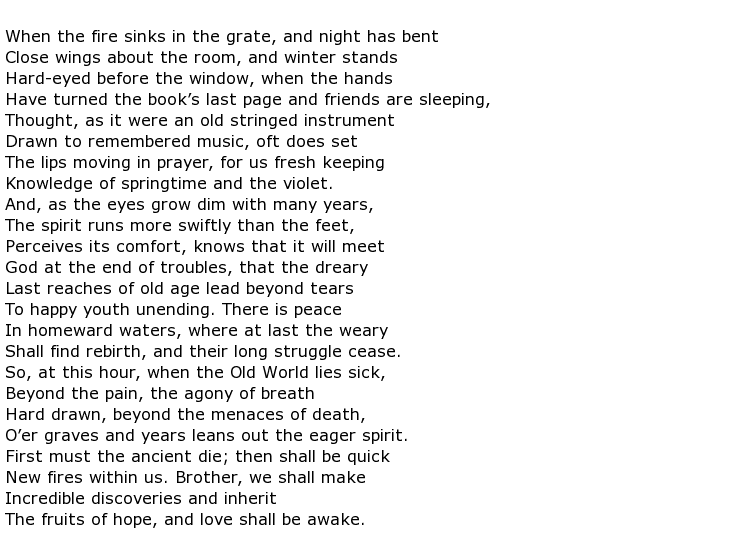 Morgan's many honours and awards include the Legion of Honour, in 1936, which is France's highest decoration. He was well known in France throughout his lifetime. His skill as a writer was recognised by his appointment as the President of PEN International between 1953 and 1956. PEN is a global association for writers.
Charles Langbridge Morgan died on the 6th February 1958, aged 64.