Born in Wales in 1593, George Herbert was an important figure in the world of poetry and an influence on the growth of the metaphysical movement that speculated on notions of love and religion. A gifted speaker and popular Anglican priest, he came from a well-to-do family who were interested and active in the arts. Although his father died when he was just 3, his mother was determined to see that her children were well educated and went on to a better life.
At the age of 12 he went to Westminster School and was later given a scholarship to attend Cambridge, where he had earned a Masters by the time he was 23. Appointed as a reader in rhetoric and then elevated to a post in oratory, his skills as a speaker and thinker quickly became apparent.
However, from an early age he suffered from consumption, something that would see his health deteriorate in later years, and it may have been the reason why he didn't pursue a career that could have lead eventually to a financially secure royal appointment.
He became a Member of Parliament in 1624 and later, after marrying in 1629, decided to join the Anglican priesthood, moving to a parish in Wiltshire. He had by that time been writing poetry for a while and decided to use the occasion to revise his collection in the book The Temple which remained unpublished while he was alive. He also used the time, and his own money, to help rebuild the parish church.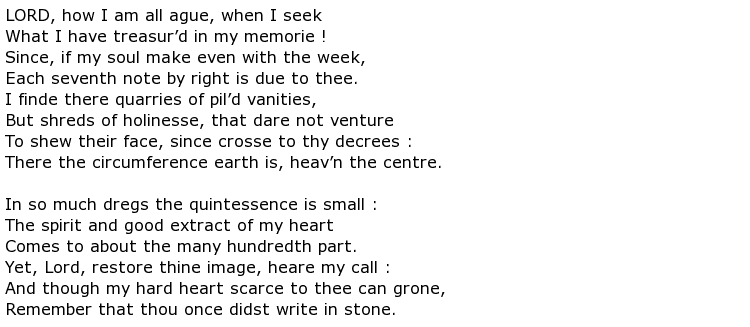 His use of conceit in his poetry marked him down as one of the Metaphysical Poets, but it wasn't until after his death that the works came to light. On his deathbed, as the consumption took control of him, Herbert sent his manuscript of The Temple to be published by his friend Nicholas Ferrar, hoping that it would help souls in need.
He passed away shortly after in 1633, at the age of 40, and the collection came out a couple of months later. It had gone through 8 reprints by 1690 and a good few of his poems have since been developed into hymns that are still sung in churches today.
Some of the verses were presented as pattern poems, where the words form the shape of something that is integral to the meaning. For example, The Altar was shaped as such. He produced only one work of prose, a practical guide to clergymen entitled The Country Parson which was published almost 20 years after his death.