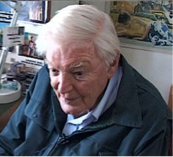 The American poet, teacher and politician Charles Wilbert Snow is more often known as Bill Snow, or sometimes Wilbert Snow, while some formal references to him quote the name C. Wilbert Snow. Born in the late 19th century this man certainly lived a full life, into his early nineties, and he held the post of 75th Governor of Connecticut, albeit for barely two weeks. He was a great advocate of education in the state and served on Boards of Education for over thirty years, filling roles as educational commissioner and Chairman of the Board at various times.
He was born on the 6th April 1884 on Whitehead Island, Maine into a fairly modest family environment. His formative years were on the island and also in a place close by called Spruce Head Village. It seems that he had little interest, at first, in getting a good education, choosing to leave school at the age of 14 to work as a lobster fisherman. He went back to education though, three years later, in Thomaston, and, after graduation, worked as teacher in a small elementary school. He managed to get a scholarship to study at a Bowdoin College and here he became the editor of the campus magazine, a literary publication called The Quill.
Snow gained a BA at Bowdoin, with Phi Beta Kappa honours. Thus encouraged he moved on to study first at New York University and then Columbia, gaining a Master's from there, in 1910. All thoughts of going on to a doctorate were dismissed though. He told the head of the English department at Columbia that



Periods of teaching at various establishments followed but he was asked to leave the Miami University in Oxford, Ohio because of his outspoken political views which he insisted on sharing with his students. It was felt that his views were much too left wing for the time and the President said of him that he talked



More teaching and writing followed, usually short term appointments, and, in 1912, he spent six months campaigning on behalf of Woodrow Wilson who was running for President of the United States. Wilson entered office the following year. Snow found himself in the Army as World War I broke out but he was spared overseas service. Once more he returned to teaching and was married in 1922, his wife producing five sons.
His literary career took off during a period of teaching at Wesleyan University in Middletown, Connecticut when he made the acquaintance of the poet Robert Frost. The two became firm friends and often met to discuss each other's poetry. Snow published a number of poetry collections, the first of which was called Maine Coast, published in 1923. Others include Selected Poems (1935), Sonnets to Steve and Other Poems (1957) and Collected Poems (1963).
Here is an example of his poetry, perhaps autobiographical. It is a short piece called Conflict:



Snow was very much involved in local and state politics during the 1940s and the pinnacle of his political career came during the period 27th December 1946 to 8th January 1947 when he stepped up from the post of Deputy Governor to serve as the 75th Governor of Connecticut for a very short interim term of office.
Charles Wilbert Snow died on the 28th September 1977 at the grand old age of 93.