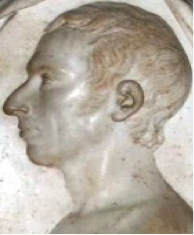 Charles Wolfe was an Irish poet and priest who managed to produce only one major body of writing in his lifetime – Poetical Remains – which unfortunately stayed largely unacknowledged until after his death.
Wolfe was born December 14th 1791 at Blackhall, County Kildare, Ireland. His family were well respected within the area as they came from upper-class stock. Wolfe's father was Theobald Wolfe of Blackhall and his mother was Frances, daughter of a clergyman.
Following the early death of his father the family moved to England in 1801 where Charles began his schooling. However he was a sickly child and so his attendance at school was short-lived. He was home educated from 1802 to 1805. After this he recovered sufficiently to attend Winchester College. After the family returned to Ireland in 1808 Charles studied at Trinity College in Dublin, the oldest college establishment in Ireland and one which the Catholic Church forbade its subjects to attend from 1871 until 1970. During his attendance at Trinity Charles had been unable to fulfil the requirements of celibacy because he fell in love with a girl there. Despite this he managed to graduate from the College.
In 1817 he became a Church of Ireland priest and later moved to Donaghmore, County Tyrone to practise his ministry. Whilst there he developed a close friendship with the Reverend Thomas Meredith. He later honoured the friendship by writing two epitaphs for the Reverend one of which appears on Meredith's tomb and which fulsomely describes the many saintly qualities which Meredith had and which encapsulated Charles Wolfe's great respect for him. Wolfe wrote a letter to this effect:



Wolfe's best known poem is The Burial of Sir John Moore after Corunna, part of his volume entitled Poetical Remains. He wrote it in 1816 and it was first published in 1817 by the Newry Telegraph. Only after his death was it brought to wider attention and given the acclaim it deserved when Lord Byron brought it to public attention. It tells of the aftermath of the great Battle of Corunna and the defeat of the French army. The poem begins:


It ends with the lament:

A lonely Charles Wolfe, without the woman he loved and the great friend he had lost, returned to Cobh where he died aged 31 on February 21st 1823, a victim of the Consumption. He is buried in Castlecaulfield Church.