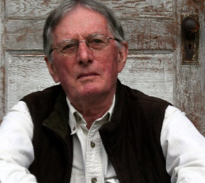 Charles Wright is a Pulitzer Prize-winning American poet who, in his 79th year, was appointed Poet Laureate of the United States, a role that he filled from June 2014 until May 2015.  As well as writing he has had a long teaching career at various establishments including being Souder Family Professor of English at Charlottesville's University of Virginia.
He was born on the 25th August 1935 in Pickwick Dam, Tennessee. His school days were spent at Christ School (North Carolina) in Asheville where he excelled as a football coach as well as immersing himself into American literature, especially the work of William Cuthbert Faulkner.  He was inspired to begin writing his own material, developing this further during his time at Davidson College in North Carolina and at the University of Iowa Writers" Workshop.  Wright was then fortunate to gain a Fulbright Scholarship which enabled him to study at Italian universities in Rome and Padua.
On his return to the United States he settled into the role of serious writer and he soon found an outlet for his work.  Much of it has appeared in Blackbird, the twice-yearly online journal dedicated to literature and other art forms.  He has published in excess of 20 books of poetry including the award winning Country Music which came out in 1982 as the first part of a trilogy.  His 1997 collection called Black Zodiac won him the Pulitzer Prize for Poetry.  Critics have sometimes called his work Dante-esque as Wright often delves into surreal and disturbing areas which often challenge the reader to understand his concept of time, space and reality.  Other titles released include



Occasionally he takes a break from his own original work by taking on translation projects such as



which was originally written by the Italian poet Eugenio Montale.  This won him the 1979 PEN Translation Prize.  He has also produced two critical studies, titled Halflife and Quarter Notes.  Critics of his own work often cite his childhood in the rural areas of Tennessee as being a major influence of his style of writing.  It has been said that he


Although the text of the following piece is, in some ways, of an abstract nature there is a strong theme of times remembered, perhaps wistfully, perhaps with foreboding.  The poem Stone Canyon Nocturne is reproduced here: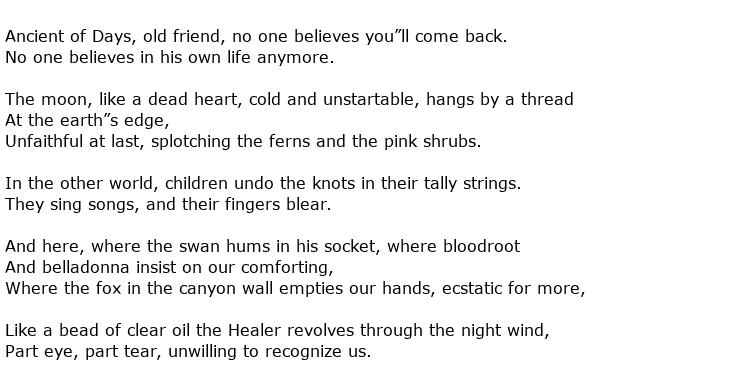 Wright's time in Italy has also influenced his writing and he is fond of recalling the rolling landscapes of both that country and of Virginia.  Other influences though seem to confuse the issue with references to Chinese poets such as Tu Fu, a hint of the expansive language as used by Gerard Manley Hopkins in the 19th century and then something much more modern from the likes of Ezra Pound.
In truth though, Wright has never stagnated as a writer and his own voice dominates most of his work and he often changes his style to suit the mood of the time.  Whatever he has done he has remained a highly popular American poet who has scooped up honours and awards along the way.  Now in his early eighties he is currently a Chancellor of The Academy of American Poets.