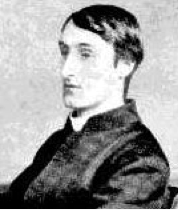 This 19th century poet, Roman Catholic convert and Jesuit priest only really became well known after his death.  At a time when poets usually wrote in traditional verse Hopkins was considered innovative, even daring, using imagery and experimental exploration of poetic structures and speech rhythms.
Hopkins was the first in a family of nine children and was born in Essex in July 1844.  His father Manley was, himself, a published writer of poetry as well as dabbling in marine insurance, church wardenship and the diplomatic service.  This was a deeply religious family, followers of the High Church Anglican faith, and Gerard's wider family encouraged him to sketch and draw.  He had talent in this line and he was, for a time, a draughtsman, although his passions were painting and later writing poetry.
In 1852 the family moved close to Hampstead Heath in London and two years later Gerard became a boarder at Highgate School.  He studied the poetry of John Keats closely and produced his earliest known poem The Escorial at the age of 16.  He studied the classics at Balliol College, Oxford and continued to live and write in the city until 1879.  It is said that his sociable lifestyle while in Oxford alarmed him somewhat and he even noted down his "sins" although accounts show that he lived a life of celibacy. He certainly had strong homosexual tendencies but none of these resulted in any physical consummation.
His writings were on an ascetic level and in January 1866 he composed the poem The Habit of Perfection.  Here are the opening two verses:



It was clear from this which direction he was heading and, indeed, decided to convert to Catholicism a few months later.  Within two years his faith was so strong that he burned all of his poetry and resolved to give up writing for a period of seven years.  This alienated him from his family and many of his friends and, while teaching at the Oratory in Birmingham, he started the process of learning to play the violin and later came another change.  He wanted to become a Jesuit and began his studies in 1870 at Roehampton.  It was his belief that writing would interfere with his devotions although he did write a journal, some music and "verses" for church sermons.
In 1875 he was asked by his religious superior to revisit his skills as a poet following a maritime disaster which claimed 157 lives including five Franciscan nuns who had been forced out of Germany due to anti-Catholic laws there.  The Wreck of the Deutschland was a lengthy piece of work, written in a style that he hoped would please a Jesuit publication.  It was not published and this just reinforced the writer's desire never to have any of his poetry published during his lifetime.
Hopkins was ordained as a Jesuit priest in 1877 but did not make much progress in this line.  Appointments both in the church and teaching Greek and Latin in Dublin all contributed to a gradual decline into an advanced stage of melancholy.  His devotion to his religious order clashed badly with the artistic tendencies that he still had and he came to believe that he had succeeded at nothing in his whole life.
Gerard Manley Hopkins died in June 1889, just before his 45th birthday.  Curiously, despite several years of ill health culminating with typhoid, and almost certainly suffering from depression, he was heard to say on his death bed in 1889: