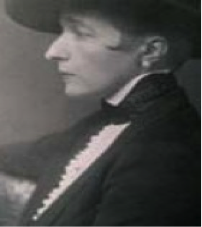 If ever a poet could truly be described as 'tortured' then perhaps Charlotte Mew is that poet. She undoubtedly was the product of a family mired in mental illness. Two of her siblings were committed to mental institutions while another three siblings died in early childhood and so Charlotte and the only surviving sister, Anne, each decided to never marry for fear of passing mental illness on to any children. It is said, though, that not having a husband was no great loss to Charlotte, being as she probably was, lesbian, a condition greatly disapproved of in Victorian times. Charlotte was quite masculine in the clothes she wore and the way she styled her short hair contrary to the fashions of the time.
She was born on November 15th 1869 in Bloomsbury, London. Her mother, Anna, came from a family of architects and her father Frederick was also an architect who died in 1898 leaving the family in dire financial circumstances.
Charlotte had already begun to write by the early 1890s. Her short stories and essays were published in several magazines including the Yellow Book, a London quarterly journal which was said to be quite decadent and was a showcase for many leading writers, artists and illustrators. It wasn't until 1916 that her first poetry collection, The Farmer's Bride, was published in chapbook form – this referred to the kind of popular literature designed to appeal to the masses. In the USA the collection was renamed Saturday Market and was published by Macmillan in 1921. Here are the opening lines from The Farmer's Bride:

Mew's poetic themes varied. Like many poets she wrote of contemporary life in the London slums and of past history. Some of her poems were inspired by the plight of her siblings locked within their mental turmoil in an asylum, appearing to rage against the treatment of people with mental illness, whilst others discuss the belief in God, like her poem Madeleine in Church:

Her poem In a Nunhead Cemetery, included in The Farmer's Bride collection, referred to her brother Henry who died in 1901 in an asylum and she wrote On The Asylum Road and Ken to express her emotions about insanity and mental hospitals. In later years her writing would explore the selfishness of the human race and the exploitation of the earth's natural resources; a subject still written about by poets today. In Men and Trees she says:

Mew's passionate writing brought her encouragement and backing from several notable literary figures including Thomas Hardy and Virginia Woolf and some of these friends were able to obtain a modest Civil List pension for her to ease her financial difficulties.
In 1926 her sister Anne was diagnosed with cancer and Charlotte took it upon herself to nurse Anne until she died in 1927. Charlotte was shortly afterwards admitted to hospital for minor surgery where, in a fit of depression, she killed herself by swallowing poisonous disinfectant on the 3rd of March 1928. She is buried in Hampstead Cemetery, London.