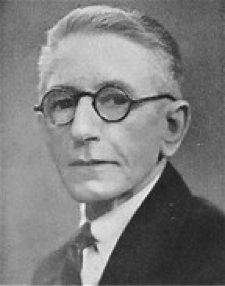 Clarence Michael James Dennis was a poet and journalist who began his writing career at an early age and who's most successful collection


was published during the Great War and became widely read by troops weary of fighting and by a public weary of hearing about mass war casualties.
He was born September 7th 1876 in Auburn, Australia, one of three sons to Irish immigrant parents. His father James was a hard-working publican and hotelier who was left widowed when his wife Kate died in 1890, leaving his sons to be cared for by two Aunts. Clarence was interested in literature from a very early age. While at primary school he edited the Weekly Weary and his literary career continued through College in Adelaide with contributions to a local publication called Interesting Scraps. He left school at the age of 17 to work as a junior clerk but was fired for reading Rider Haggard during working hours; his passion for literature was strong and his first verse – a humorous poem – was published in the Laura Standard when he was 19 years old. His first foray as a journalist came in the late 1890s and lasted about a year after which he returned to work in his father's hotel. It was here that Clarence said he "learned to drink" and this habit would follow him through life. His health began to fail and he returned to live with his Aunts, resuming his journalistic career. In 1903 his poem Urry was published and it is one which illustrates his humour and his style of writing perfectly. It is a long poem so here is just the first verse:



His later works were written in a similar style. He liked to tell very human stories in dialect which could be easily understood by his readers. Dennis later said, following publication of The Songs of a Sentimental Bloke, that


With his style of writing he wanted to illustrate the importance of life and love to all people; as he put it,



He went on to publish several more books including



However he found it difficult to make enough money from writing and returned successfully to journalism in 1922.
C J Dennis died from cardio-respiratory failure in a Melbourne hospital on 22nd June 1938.