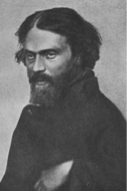 Cyprian Kamil Norwid was a 19th century Polish poet and playwright who also made his name as a sculptor and painter. Also known as Cyprian Konstanty Norwid, he became one of his country's most popular writers and artists, belonging to what became known as the second generation of romantics.
He was born on the 24th September 1821 in the north eastern region of Poland, in a Mazovian village called Laskowo-Głuchy which is not too far from the capital, Warsaw. He came from noble stock with one of his ancestors on the maternal side being King John III Sobieski. The family were entitled to use the Topór coat of arms. Unfortunately he, along with brother Ludwik, were orphaned at a very early age and were only able to obtain a fairly rudimentary education. Unable to complete his schooling, Cyprian became an autodidact although, along with other notable examples such as Renaissance polymath Leonardo da Vinci, he did not suffer because of it.
His first literary efforts were published in a periodical called Piśmiennictwo Krajowe. The year 1840 saw his first effort in print, a poem called Mój ostatni sonet (My Last Sonnet). He had a great talent for writing and art and penned at least three of Poland's best-known poems, including Fortepian Szopena, which translates as Chopin"s Piano. It is all the more remarkable that he achieved such literary success as he lived much of his life in poverty, spending one period of time living in a cemetery crypt. His work was not always appreciated at home and, discouraged by poor critical reviews and a desperate lifestyle, he spent much of his life living in Paris and London, amongst other places.
He was very much the non-conformist so, despite his obvious talent, he was ostracised by society at all levels. As is the case with many more writers and artists, it was only after his death that his work was properly appreciated, particularly during the years between 1890 and 1918 known as the "Young Poland" art and literature period. Students and critics alike rediscovered Norwid's work at this time and his name was established as one of the four most important Polish Romantic poets.
Here is a short example of his work, a poem which, perhaps, slightly mocks his fellow writers, some of who like to think of themselves as being on a much higher plane than they really are. The poem is called Gods and Man: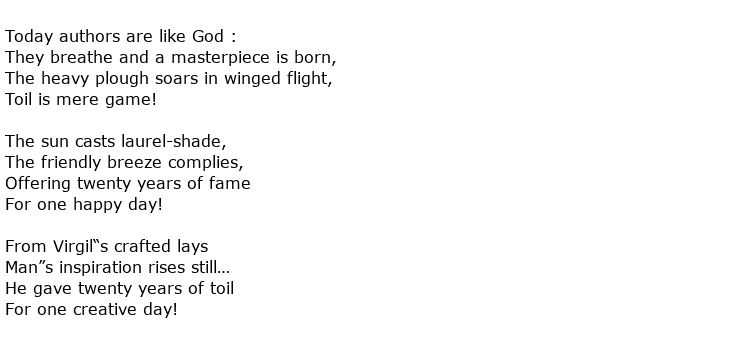 Although he is known as a Romantic poet, some critics prefer to place his work in the classicism and parnassianism categories. The fact that he travelled extensively throughout Europe will have, without a doubt, influenced his artistic style. In 1842 he was in Dresden and followed this with visits to Rome, Venice and Florence, along with a number of other European cities. All this was achieved despite his deteriorating health. In Berlin he made contact with many other Polish exiles, known as the diaspora or Polonia, and forged a number of social, political and artistic liaisons while there. Between the years 1849-52 he was in Paris and met the famous composer Frédéric Chopin and fellow Romantic poet Juliusz Słowacki.
He was really struggling in the French capital though, suffering great financial hardship compounded by ever-worsening deafness and blindness. And yet, despite all this, he still managed to write and get some of his work published in the Goniec polski publication. Incredibly he then took the decision to emigrate to the United States and he arrived in New York City in February 1853. This was a short-lived venture though and he returned to Europe in April 1854.
Norwid spent the rest of his life in and around Paris, suffering many bouts of ill-health including tuberculosis. He spent his final months bed-ridden and in great distress in a nursing home. Literary students have often reported that he was probably "ahead of his time" as a poet and was destined to be appreciated only after he had gone.
Cyprian Kamil Norwid died on the 23rd May 1883 at the age of 61.