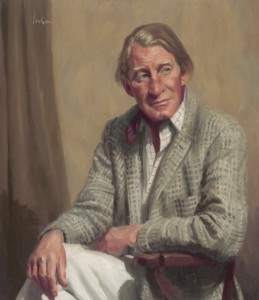 Australian poet David Campbell was born in Adelong, New South Wales, in 1915 and, apart from being a prolific writer, he was also one of the few to also excel at international sports, in this case rugby, where he played two matches for England. Campbell's father was a doctor and grazier who installed in his third born child a love of learning and education.
At the age of 15, Campbell was sent to the suburbs of Sydney to King's School where five years later he earned a place at Cambridge University in England. Quickly assimilated into the English way of life after his arrival, Campbell found that he excelled at rugby and was picked for an international match against Wales in 1937.
If he had stayed in England, he may well have become a fully-fledged sportsman rather than a poet, but Campbell returned to Australia in 1938 and, in 1939 with war in Europe looming, he joined the air force. He had learned to fly at Cambridge and served with distinction in the Far East during the war. In 1940 he married Bonnie Lawrence and by the time the war ended in 1946, Campbell had moved to Canberra.
Although he had written poetry during his Cambridge days, and had some published in local magazines and papers, Campbell didn't seriously begin to write until 1942 when he started to submit some of his work to the well-known Australian publication The Bulletin. Over the next couple of years he had six poems published and came to the attention of poet and essayist Douglas Stewart who just happened to be one of the editors for The Bulletin. The two met and would become firm and lifelong friends.

Whilst his initial works published in Australia dealt with the emotions and tragedy of the war that was raging across the world, by the end of hostilities Campbell's work had turned to more everyday subjects. Based as he was in Wells Station and working primarily, as a grazier as his father had done, he wrote more about the reality that was the countryside.
Campbell wasn't just a fine poet but was interested in painting and art as well. He was also a keen sportsman and loved to fish. His friends included some of the intellectual heavyweights of the time including historian Manning Clark and Patrick White who won the Nobel Prize for Literature in the 1970s. His first collection of poetry, Men in Green, appeared in 1943 and Speak with the Sun followed a few years later.

It wasn't until later in his career that Campbell earned a few awards, taking the Grace Leven Poetry Prize on two occasions, in 1968 and after his death in 1980. He was often considered to be part of the New Bulletin School and was able to change his writing style in later life to become more surreal, mixing with younger poets such as Dransfield and Johnston.
Campbell died in 1979 at the age of 64 whilst he was staying in Canberra. His contribution to poetry is celebrated in Mullion Park which was opened in 2007 and incorporates part of the land in Wells Station where the poet lived.