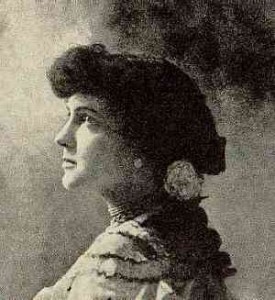 Born in 1886 in Montevideo, Uruguay, Delmira Agustini is one of the most celebrated Latin American poets of the last century, known for her precocious talent and tragically short life. Her work was strictly modernist but she helped to redefine the tradition with her intensely erotic verse that looked at the world from a woman's viewpoint.
Agustini began to write poetry at the age of ten years old and, when she was just 16, went into the office of a prominent local editor in Montevideo and presented her first collection of poetry. She was met with astonishment and laughter by the editor but a short while later the work was published and garnered her national fame. She would write three more collections over the next few years.
The remarkable thing about Agustini was that she produced erotic poetry at a time when the literary world was largely dominated by the male voice. In many of her works Eros is the central character and it may well be that her early death has leant a certain amount of mystery to her verses. She was, essentially, a poet who had not reached her peak and many wonder what she would have been had she lived to a greater age.
Her poems such as The Poet and the Illusion explore the world of eroticism with the unabashed directness of youth and the imagery is very deep and exploratory for one so young. Whilst she is seen by many as the first lady of Latin American poetry, her work is probably only now beginning to be examined more deeply.
Her subject matter covers a range of erotic subjects that included vampires and insects. It is not just that she flew so close to the literary sun before falling so dramatically but also the complexity and strength of her imagery that was unusual for her sex and the time they were written in.
It is known that Agustini was an admirer of the Latin American poet Rubén Darío who influenced many later poets. She understood that he was the major voice of the day and her own works can be seen, in part, as a conversation with him. Her precociousness from an early age was a result of his influence and a background that was surrounded by the opulence of her well to do family.

When she published her third volume of work in 1913, Los cálices vacíos, Dario wrote the forward, praising her voice and her impact on the literary environment. With her star quickly rising, Agustini married Enrique Job Reyes in the same year. Whilst they had been engaged for five years, the marriage was destined to end in tragedy after only a short while. Barely two months after the ceremony, Agustini left their home and returned to her parents where she filed for divorce.
Despite this, she continued to meet with Reyes, now taking him as her lover and meeting in secret. In 1914, Reyes took out a gun and shot her, then turned the weapon on himself. Agustini was barely 28 years old.