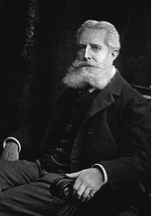 Edmund Clarence Stedman was a poet hailing from America, along with an essayist and literary critic. He also worked as a journalist, banker and a scientist at different times.
He was born on the 8th October 1833 in Hartford, Connecticut, the son of a retired army Major who died of tuberculosis when his son was only two years old. His mother took the family to Plainfield, New Jersey shortly afterwards and they moved in with her father, a wealthy man but strict disciplinarian. It was an unhappy time for Edmund and his brother and they eventually moved to Connecticut to live with their paternal grandfather in Norwich.
None of this early upheaval got in the way of Edmund's education though and he went to Yale University for two years. He managed to secure a position as a journalist with first the Tribune, in New York City, and then the World. He was the latter's field correspondent, covering the American Civil War. Following this he went back to his studies, this time reading law and then, between the years 1865-1900, he was in Wall Street finance as a member of the New York Stock Exchange.
Stedman found the time to write poetry as well and the first of several collections was published in 1860 under the title Poems, Lyrical and Idyllic. Many of his poems were long ones, including



 (1864) and a piece that some critics suggested may have been based on the life of Queen Victoria's Prince Consort, Prince Albert. This was called The Blameless Prince and was published in 1869. Obviously inspired by his time working in high finance he also penned a long poem called Pan in Wall Street and here are the opening verses: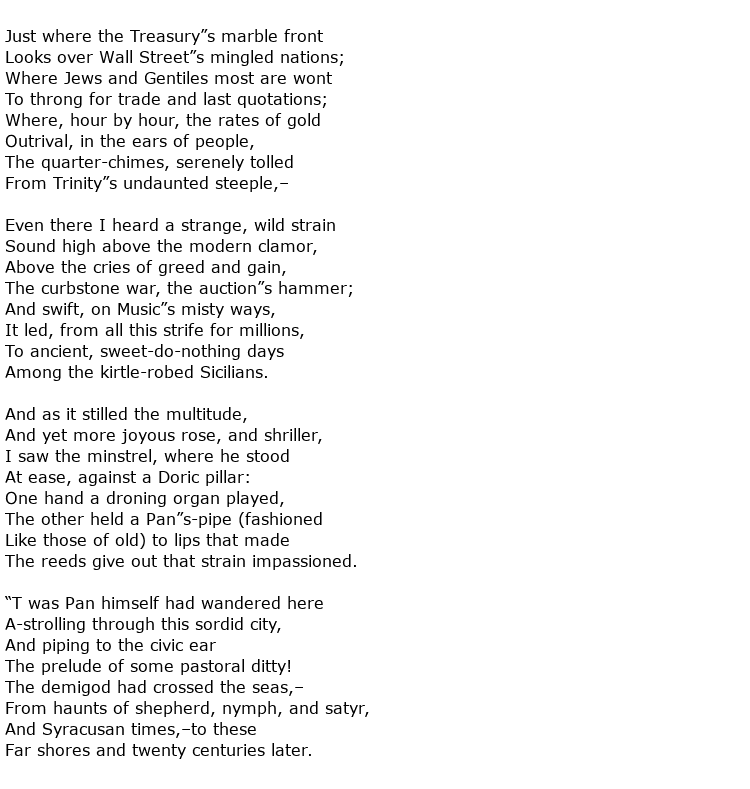 Some of his work was set to music and turned into songs, leaning on the often lyrical nature of much of his work. He also did a considerable amount of work as a literary editor and was responsible for a number of anthologies of both English and American poetry. Examples of this were a Victorian Anthology (1895) and an American Anthology, 1787-1899, the latter being published in 1900. In collaboration with Ellen M. Hutchinson Stedman edited A Library of American Literature which ran to eleven volumes between 1888 and 1890.
He was never an especially popular poet at the time and some of his work attracted gentle mockery, as evidenced by Bayard Taylor's parody in verse called The Echo Club and Other Literary Diversions. Despite this he was honoured in 1904 by being chosen for membership of the American Academy of Arts and Letters. He was one of the first seven poets to achieve this honour.
His life also encompassed scientific study and it is believed that it was his early attempts to invent a rigid framed airship that led to later more successful ventures in the building of so-called dirigibles during the early decades of the 20th century. Stedman's airship designs never left the drawing board but the seeds were sown for others to follow.
Edmund Clarence Stedman died on the 18th January 1908 at the age of 74.