Edward Verral Lucas, CH was an English writer and journalist often referred to as E. V. Lucas. His considerable literary output included poetry, novels, short stories, plays and biographies, and he also edited the work of others.
He was born in mid-June 1868 in Eltham, Kent which is not too far from London. His family were of the Quaker faith who brought him up in the same vein. He went to the Friends School in Saffron Walden but, although he was certainly capable of going on to university, his father could not afford to send him. He therefore left school at the age of sixteen and went to work for a bookseller before turning his hand to journalism. He had already displayed a talent for writing and his first assignment was with the Sussex Daily News in Brighton. His first major work as a writer though was the compilation of a biography on a Quaker poet called Bernard Barton who had died in 1849. He later edited the works of Charles Lamb, along with a number of other similar commissions.
Lucas's first collection of poetry came out in 1890 under the title Sparks from a Flint and he was so encouraged by this that he moved to London, having acquired financial help from an uncle. He managed to attend a few lectures at University College and then joined the staff of the evening paper The Globe. He was beginning to make a name for himself as a writer and he attracted the attentions of the humorous magazine Punch, joining their writing staff in 1904 and remaining there for over thirty years. A colleague there was the children's writer A A Milne and he was instrumental in getting Milne to collaborate with illustrator E H Shepard, leading to the famous Winnie the Pooh books.
As well as being a prolific writer, Lucas joined the publishing company Methuen in 1908 as a reader, later becoming chairman in 1924. He was very much a self-effacing man, a good example being the following comment that was attributed to him regarding a book that he wrote about art. He said: "I know very little about pictures, but I like to write about them for the benefit of those who know less."  He was well known for the natural humour that he instilled into many of his poems and stories.
Conversely though he had a serious side, as evidenced in a mournful poem called The Debt. This was his reflection on the tragic losses sustained during the First World War. Here are the opening verses: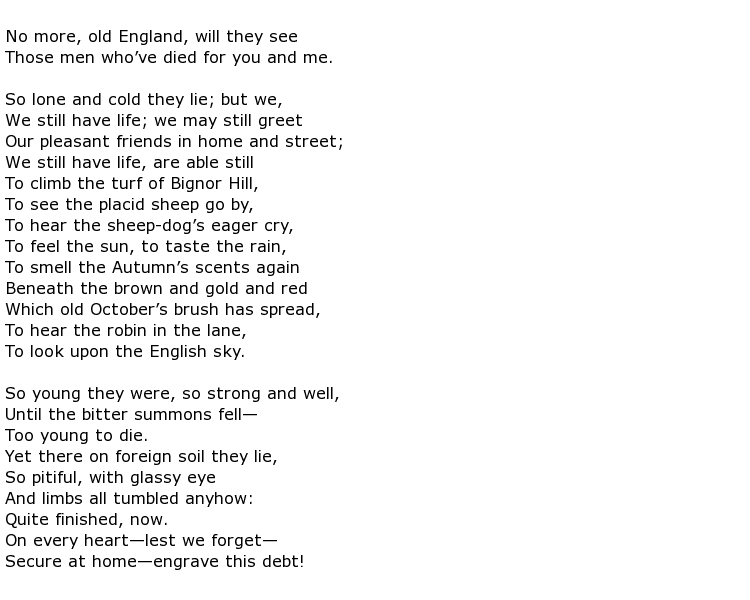 Lucas was one of those writers whose work could be enjoyed and yet not particularly well remembered. His brief foray into the theatre met with little success. He wrote a play called The Visit of the King which was seen on the London stage in 1912, but it's run was brief and soon forgotten. Probably something that could be described as his passion was the game of cricket and his collection of essays on the subject drew the following comment from the famous commentator John Arlott who said that they formed


His work earned him honorary degrees from two universities and his work was recognised with the award of the Companion of Honour in 1932. He deliberately chose to live a solitary life in his later years, although he was a member of several Gentlemen's clubs in London, including the Garrick and the Athenæum.
Edward Verral Lucas died in a nursing home in Marylebone on the 26th June 1938, aged 70.