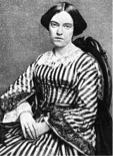 Elizabeth Drew Stoddard was an American poet, short story writer and novelist. Probably her best known piece of work was her first novel, The Morgesons. This was a powerful, coming-of-age story of a woman seeking to make her way in 19th century New England, a time when females were universally oppressed.
She was born Elizabeth Drew Barstow on the 6th May 1823 in Mattapoiset, Massachusetts, a small fishing community in the Buzzards Bay area. Her father was a businessman and the family environment was fairly affluent. Elizabeth was the second of nine children and was educated at Wheaton Seminary in Norton, Massachusetts. After this she decided to travel, initially around New England, but then she settled in New York City after meeting and marrying the poet Richard Henry Stoddard in 1852.
They soon joined the established literary and artistic circles in the city and both were fairly prolific in their writing output. It was fashionable at that time for writers to host literary salons in their own homes and the Stoddards did so, thus contributing to what became known as "the genteel circle". Elizabeth's efforts were seen in a number of periodicals including The Atlantic Monthly, The Aldine and Harper"s Monthly, these including poetry, essays and short stories. Over a four year period she contributed articles in the form of letters to a daily newspaper in San Francisco called the Daily Alta California. These often took the form of mocking commentaries on the state of female society in New York where women were institutionalised in every area of their lives. Her pieces were witty as well as cutting and were read with enthusiasm.
Thus encouraged she decided to write a novel and her first work was the remarkable The Morgesons, published in 1862, which was set in a fictitious seaport town not unlike the one where she grew up. The heroine of the story, Cassandra Morgeson, is a woman unwilling to accept the established role of others of her sex. She fights to impose her own personality and identity on her marriage, gaining equality on both fiscal and emotional fronts. She shows women in her own family circle that they don't have to live the way that is expected of them. It was a controversial book with sexual undercurrents that shocked some elements of society, but it drew fulsome praise from critics and other authors, and most certainly established Stoddard's name as a serious writer. She was soon compared to the likes of Nathaniel Hawthorne, the Brontë sisters, George Eliot and Leo Tolstoy.
She followed up this book with two other novels in quick succession and the rest of her writing output consisted of poetry, children's stories and travelogues, plus a number of journalistic pieces for various newspapers. Critics have often noted the historicism in her work, where she deliberately and forthrightly portrays modern women as almost a different species to those seen in America's past. She refused to allow sentimentality to pervade her work and described in candid detail the characters, language and landscape of New England, a place where women were no longer second class citizens behind men.
Here is an example of this attitude, in verse. Her poem, The Wife Speaks, is reproduced here:
During the first half of the 20th century, interest in Stoddard's work decreased but there was a resurgence in the 1960s when the emancipation of women became a hot topic.
Elizabeth Drew Stoddard suffered from a long illness towards the end of her life and died on the 1st August 1902 at the age of 79.