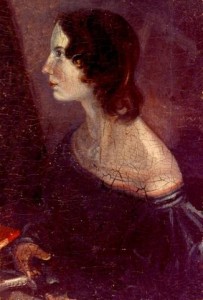 Although she is better known for her novel Wuthering Heights, Emily Brontë (1818-1848) also managed in her short lifetime to write many accomplished poems which display the same mystical ingenuity that her only published novel has become famous for.
Born in Yorkshire, in the north of England, Emily Brontë was the daughter of a reverend and writer who instilled in Emily and her siblings – Anne, Charlotte, and Bramwell – a love for poetry and literature.
Along with her sisters and brother, Emily Brontë escaped a childhood beset by loneliness and poverty in the moors of Northern England by reading and later writing, collaborating on stories about the imaginary kingdom of Angria as children, and as young adults by dedicating themselves to their individual writings.
In 1837, Emily accepted one of the few positions available for gentlewomen of the time – that of a governess. She and her sister Charlotte, who'd also worked as a governess, planned to open their own school for girls, and to prepare, traveling in 1842 to Brussels in order to learn languages and school management techniques. Unfortunately for the Brontë sisters, their school failed for lack of pupils.
After the failure of their school venture, both Emily and Charlotte, joined by sister Anne, began writing in earnest. In 1846, inspired by the quality of Emily's poetry, the Brontë sisters decided to publish their poetry, albeit under pseudonyms; hoping to avoid the Victorian prejudices against female writers, the Brontës instead gave themselves masculine pen names – Currer, Ellis, and Acton – that corresponded with their first initials. The book, Poems by Currer, Ellis, and Acton Bell , sold poorly.
In 1848, the sisters again produced joint works under pseudonyms – this time novels. Emily's contribution was Wuthering Heights. Although the novel was not a success upon initial publication, receiving mixed reviews, it eventually gained recognition as a classic of Victorian literature.
Emily did not live to see her novel – and her poetry – reach the heights of recognition they now enjoy. She and her sisters had often been ill, due to the cold, damp climate of the moors they called home, a situation no doubt furthered by the poor living and working conditions the Brontës endured. Emily caught a cold which quickly led to tuberculosis, and after refusing medical help, died in December of 1848.
Although eclipsed by the popularity of Wuthering Heights, Emily Brontë's poetry is just as accomplished and deserves the same recognition. Read below for examples:
"Fall Leaves, Fall:"

"She Dried Her Tears:"
"Speak, God of Visions:"